Ten social enterprises have been selected as 2021 finalists for What's Next YYC, a biennial award created by the Trico Charitable Foundation in 2019 to celebrate and advance excellence in social entrepreneurship in Calgary. What's Next YYC features two $25,000 jury prizes, a $25,000 audience choice, and $25,000 the finalists share amongst themselves. The awards will be handed out on Thursday, November 18, 2021, at the virtual Pivot on Purpose Summit (POP). POP is a three-day summit hosted by the Trico Foundation Social Entrepreneurship Centre at the Haskayne School of Business (more on POP at the bottom of this blog). To help the POP audience and others get to know these social enterprises better, this blog series will have each finalist answer ten questions – five basic questions and five from local funders. Registration is open now.
[box] Brief bio of CareFind: At CareFind, it's our mission to connect families with child care providers. We create a space where families can find their ideal child care solution, and providers can easily find families looking for child care. The CareFind online directory allows parents to choose from over 2,400 licensed daycares, preschools, out of school care, approved dayhomes, and more, all in one place. We are passionate about building a community of child care where families can trust in connecting to quality child care and resources. Programs & Awards: 1st place, RBC Fast Pitch Competition, Hunter Centre for Entrepreneurship and Innovation; Summer Incubator Program at the Inc, Innovate Calgary; 150 Startups, Bow Valley College; 2nd place, Regional and 2nd place, Provincial, Innovation Rodeo, Bow Valley College;  1st place, Collegiate Entrepreneurs Organization Year End Pitch Competition, Hunter Hub of Entrepreneurial Thinking; 2nd place, The Pitch Online Startup Competition, Orbiiit. [/box]
Q & A with Erica Hughes & Kathy Bui, Co-Founders of CareFind: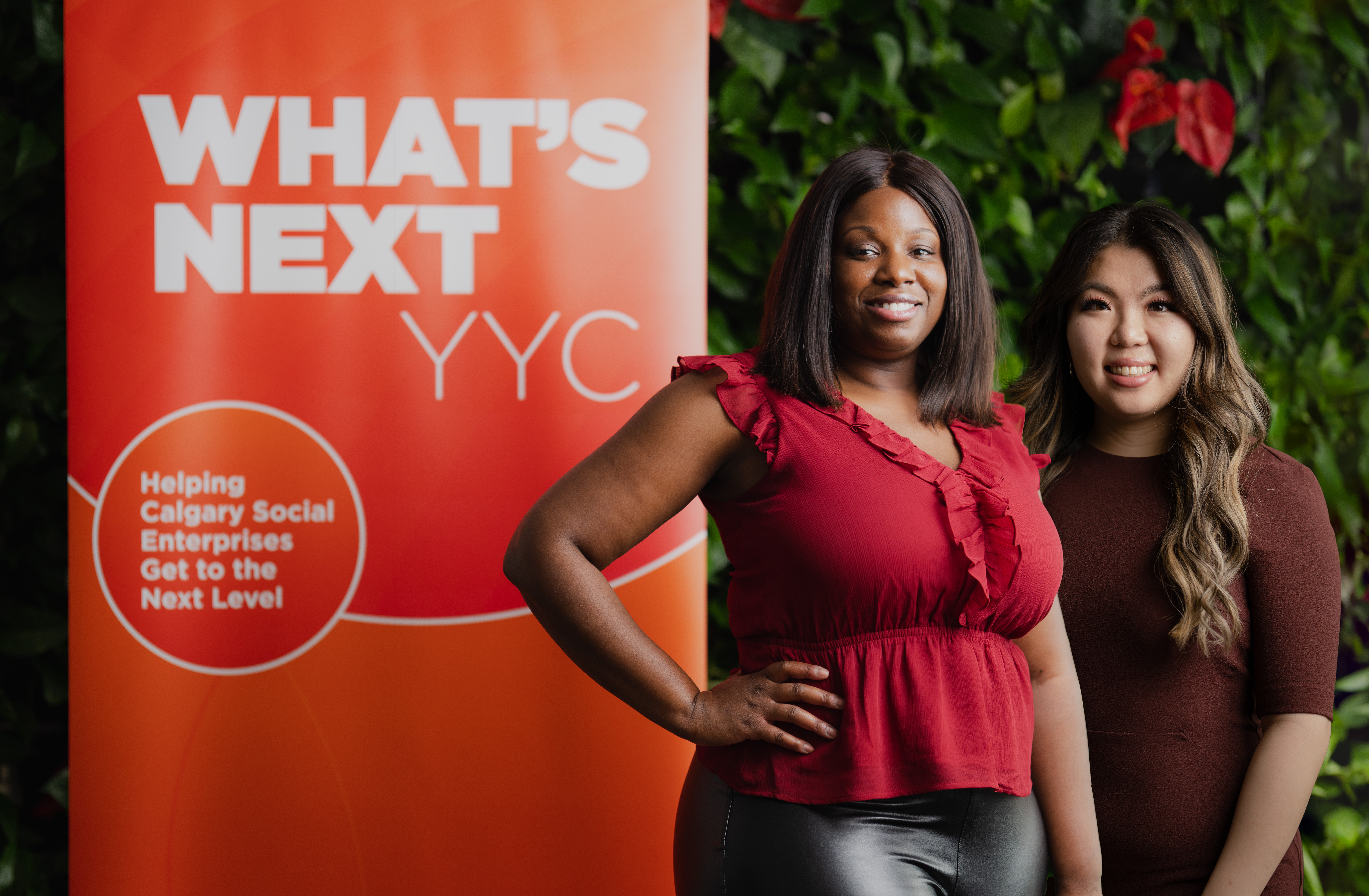 Five Basic Questions:
What is your social enterprise's 'origin story'?
"I created CareFind out of the necessity of needing child care for my twin boys. It started from a personal experience as a mother facing challenges searching for child care. I struggled searching for immediate and reliable child care for a job interview. I asked family and friends and called numerous daycares which was time consuming. I was waitlisted for several daycares and could not find two spots for one day. In the end, I missed the opportunity as I could not find childcare on short notice. I met Kathy Bui at the Haskayne School of Business where we actively tested the market and validated various aspects of a lean canvas business model. Together we embody the entrepreneurial spirit and passion about building a community of child care where families can find their ideal child care solution, and providers can easily find families looking for child care."
What are your current annual sales and annual social impact?
"In 2020 we paused services and served as a resource hub for essential care workers through connections with provincially designated childcare providers. Despite the challenges, we encourage families and remove barriers to accessing childcare programs relieving families from economic exclusion.18.2 thousand families accessed our website across Alberta since in service."
What are you most proud of regarding your social enterprise?
"It's meaningful hearing from a mother "I can't believe it cost me nothing to get the level of service and support I got through CareFind." Providing families with free services is the driving force to enable access to quality child care without barriers to returning to work or school." 
What's the next step for your social enterprise?
"To broaden our reach within communities by offering services to programs such as special needs care, summer camps, recreational activities and more. There are over 9.3 million families in Canada and 46% need child care. We plan to reach these families by expanding our services in the Western provinces."
What's your ultimate dream for your social enterprise?
"Child care is not a luxury, it's a necessity. Every child deserves the best start in life. CareFind will be the go to platform that families can trust to find quality child care across Canada and offer a wide range of services that fulfills the needs of families." 

 
Five Questions From Funders*:
When was a time someone showed you compassion and empathy?
"Child care providers believing in our vision. Their initial patience and understanding was heartwarming as the ground work was being started. As we grew those providers have shown their support through paid subscriptions. We are forever grateful!"
When you look at your origin story, what are the small moments you look back on fondly?
"Discovering the needs of both child care providers and families, we would go door to door to speak with the owners of child care centres and families in malls, parks and family oriented public areas. It was a great learning experience that pushed us out of our comfort zone."
In what ways has your social enterprise been reshaped by community needs?
"Supporting families with finding child care has always been at the forefront however getting women back into the workforce and drive economic growth has helped shape our mission."
How has your social impact evolved from what you originally envisioned?
"CareFind started as a means to connect families with drop in care providers. We have grown to offer services that support low income families, women in need, and single parent households that contribute to greater gender equality and economic stability." 
If you had to describe it in one sentence, what is the "why" behind your mission?
"Let's give every family an equal chance to succeed as we build a community where families trust in connecting to quality child care and resources."
*The local funders that provided questions are:
More About the Pivot on Purpose Summit (POP): POP, occurring November 18-20, 2021, is a free, virtual gathering that aspires to be the next step in a movement to reimagine the power of business models to solve social problems. POP is held in collaboration with the Trico Charitable Foundation (TCF), the NU Community Board, and the Canadian Sustainable Finance Network. Registration is open now.
POP Highlights Include:
Tariq Fancy, former CIO for sustainability investing at BlackRock

Alex Edmans, author of

Grow the Pie: How Great Companies Deliver both Purpose and Profit

R. Edward Freeman, the thought leader many regard as founder of stakeholder capitalism

21 Canadian social entrepreneurs 

Spotlight on Scotland, a world-leader in nurturing social entrepreneurship with initiatives including a 30 million Third Sector Growth Fund

And much more!