Ten social enterprises have been selected as 2021 finalists for What's Next YYC, a biennial award created by the Trico Charitable Foundation in 2019 to celebrate and advance excellence in social entrepreneurship in Calgary. What's Next YYC features two $25,000 jury prizes, a $25,000 audience choice, and $25,000 the finalists share amongst themselves. The awards will be handed out on Thursday, November 18, 2021, at the virtual Pivot on Purpose Summit (POP). POP is a three-day summit hosted by the Trico Foundation Social Entrepreneurship Centre at the Haskayne School of Business (more on POP at the bottom of this blog). To help the POP audience and others get to know these social enterprises better, this blog series will have each finalist answer ten questions – five basic questions and five from local funders. Registration is open now.
[box] Brief bio of Included by Design: Included by Design is the leading for-profit accessibility and disability inclusion company in Canada. We work collaboratively with businesses to help them move beyond building code accessibility and embed disability inclusion for their employees, customers, and investors. By leveraging our ESG expertise, national residential and commercial building code development work, and propriety internationally recognized accessibility standards, we help future-proof businesses against upcoming legislated accessibility standards. But our work doesn't stop there. To enable the full benefit of disability inclusion, our clients are provided with Krooshl – a community marketplace that connects them with the 1 in 5 Canadians who identify as living with a disability. Programs & Awards: RBC Social Enterprise Accelerator, Innovate Calgary/Calgary Technologies Inc.; Trico Changemakers Studio, Mount Royal University; Accessible Housing Award, Be Local Award, REAP; Judge's Choice 2019, What's Next YYC. [/box]
Q & A with Sean Crump, CEO of Included by Design: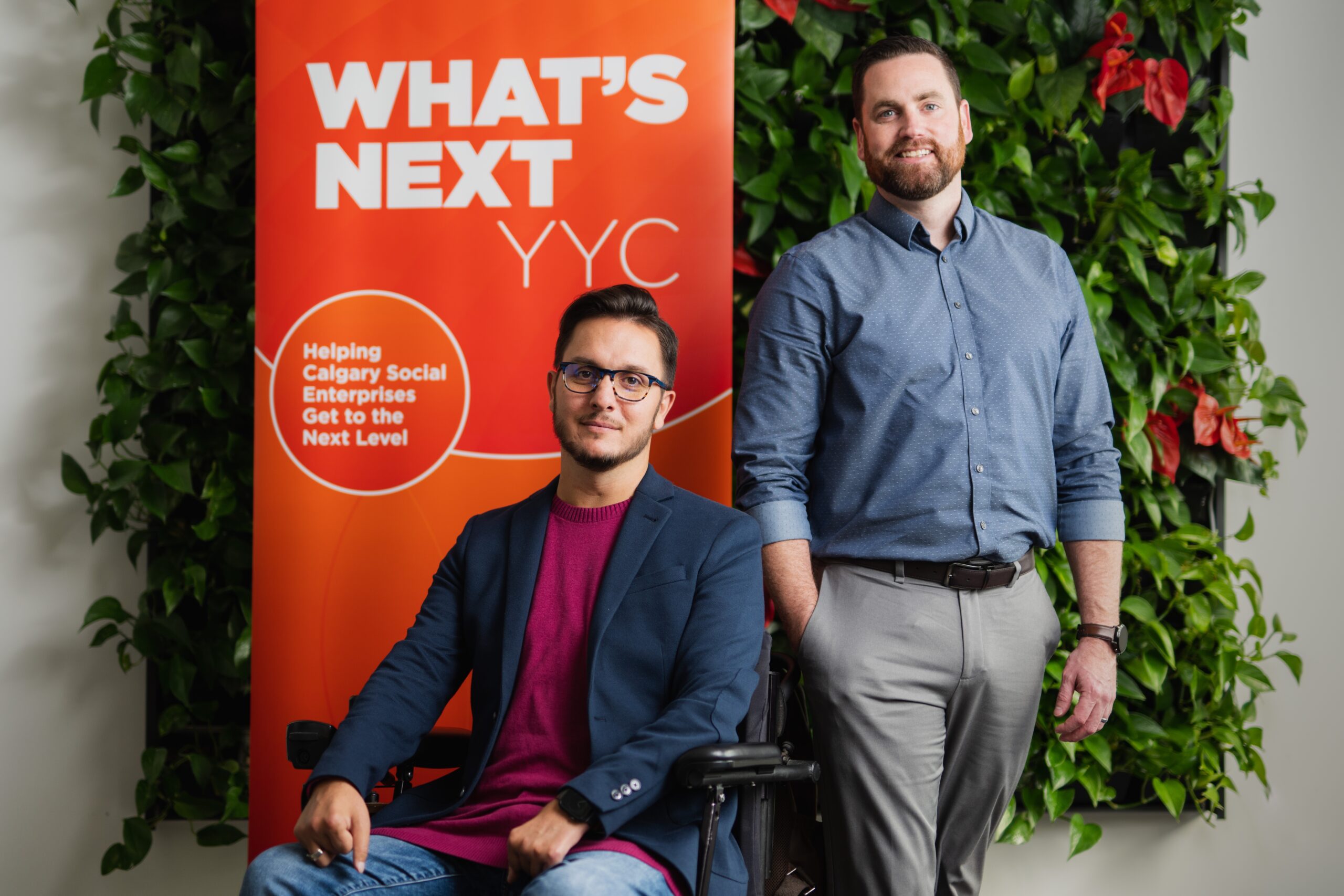 Five Basic Questions:
What is your social enterprise's 'origin story'?
"Our origin story started in 2004 at Cold Lake Alberta. On this day, our CEO Sean Crump broke his neck diving into the lake and hitting a sand bar hidden below the water's surface. In that instant, society's perception of him and the expectations for his life changed dramatically.

And we don't think it should have. So, on that fateful day, the seed that would become Included by Design was planted.

Since that day at the lake, Sean has spent the last 16 years living as a quadriplegic, utilizing a wheelchair for his independence, and experiencing firsthand the immense need and lack of inclusive environments and communities.

Included by Design overcomes these barriers by quantifying the impact of disability inclusion, by providing a digital solution that is easy for businesses to adopt."
What are your current annual sales and annual social impact?
"Our projected annual sales will exceed $90,000. We are in good shape going forward with long-term projects and master services agreements with federally regulated businesses.

Our 2021 social impact exceeded our projections with more square feet certified, more training session delivered and two public videos – a TEDx talk and a Telus Documentary."
What are you most proud of regarding your social enterprise?
"While the awards and accolades are nice, the two things we are most proud of are that 60% of our team live with a permanent disability and that we have the confidence from our clients, investors, and the disability community that we are the right ones to deliver on this globally significant mission."
What's the next step for your social enterprise?
"Having built the first of our digital products, we are looking forward to making accessible restaurants easier to identify and connecting them with the community of people who need them. Thus, creating opportunity for social and economic inclusion for everyone, regardless of ability."
What's your ultimate dream for your social enterprise?
"Our dream is a world where everyone, regardless of ability can have the same opportunity. In this future, Included by Design has digitally delivered the global platform that establishes the universal standard for disability inclusion and impacts every government, business, and human across the globe."
Five Questions From Funders*:
When was a time someone showed you compassion and empathy?
"With 60% of our team living with a significant permanent disability, compassion and empathy are foundational to how we work. From workplace accommodations to time off for medical appointments, or simply doing things differently to ensure everyone in included equally – without understanding for each other, our business would cease to exist."
When you look at your origin story, what are the small moments you look back on fondly?
"Our company connects people and that is what we look back on most fondly. We loved meeting new people, that we now call friends. We're grateful for the clients, that trust us with their projects, and grateful for the community supporters, that trust us with this mission."
In what ways has your social enterprise been reshaped by community needs?
"Our community needs us to be successful. They need us to identify accessible locations they can visit.  From the initial humble ambition that we were founded on, we've been asked by the community to step up our thinking and respond to the global opportunity – and we're doing that."
How has your social impact evolved from what you originally envisioned?
"Our initial social impact was based purely on accessibility, and while still vitally important, we now measure our impact in terms of disability inclusion. As we say, while it's possible to be accessible but not inclusive – it is impossible to be inclusive if your space is not accessible to everyone."
If you had to describe it in one sentence, what is the "why" behind your mission?
"To improve the social and economic inclusion of people living with disabilities and ensure equal opportunity by closing the systemic gap that exists today."
*The local funders that provided questions are:
More About the Pivot on Purpose Summit (POP): POP, occurring November 18-20, 2021, is a free, virtual gathering that aspires to be the next step in a movement to reimagine the power of business models to solve social problems. POP is held in collaboration with the Trico Charitable Foundation (TCF), the NU Community Board, and the Canadian Sustainable Finance Network. Registration is open now.
POP Highlights Include:
Tariq Fancy, former CIO for sustainability investing at BlackRock

Alex Edmans, author of

Grow the Pie: How Great Companies Deliver both Purpose and Profit

R. Edward Freeman, the thought leader many regard as founder of stakeholder capitalism

21 Canadian social entrepreneurs 

Spotlight on Scotland, a world-leader in nurturing social entrepreneurship with initiatives including a 30 million Third Sector Growth Fund

And much more!