Ten social enterprises have been selected as 2021 finalists for What's Next YYC, a biennial award created by the Trico Charitable Foundation in 2019 to celebrate and advance excellence in social entrepreneurship in Calgary. What's Next YYC features two $25,000 jury prizes, a $25,000 audience choice, and $25,000 the finalists share amongst themselves. The awards will be handed out on Thursday, November 18, 2021, at the virtual Pivot on Purpose Summit (POP). POP is a three-day summit hosted by the Trico Foundation Social Entrepreneurship Centre at the Haskayne School of Business (more on POP at the bottom of this blog). To help the POP audience and others get to know these social enterprises better, this blog series will have each finalist answer ten questions – five basic questions and five from local funders. Registration is open now.
[box] Brief bio of RetinaLogik: Out of the 2.2 billion people who live with vision impairment, over 1 billion are preventable or treatable with early detection and treatment. Although this problem is most common in developing countries, preventable or treatable conditions cause 75% of cases in Canada. Our social enterprise believes everyone deserves access to quality vision care. We make eye exam technology more intelligent and more accessible. Our life-changing eye exams are smart, portable, and a fraction of the cost. We're partnering with NGOs and health authorities to deliver it as part of a telehealth community care model and get it to people who need it most. RetinaLogik is 94% cheaper than comparable eye exam equipment, portable, battery-powered, and our added layer of AI detection outperforms existing condition detection techniques. Help us to save vision and promote wellness for millions inside and outside Canada. Programs & Awards: 1st place Worlds Challenge, University of Calgary; 1st place provincially, 3rd place nationally, Global Student Entrepreneur Awards; Student Entrepreneurship Sprint Program, Platform Calgary. [/box]
Q & A with Abdullah Sarhan, Co-Founder of RetinaLogik: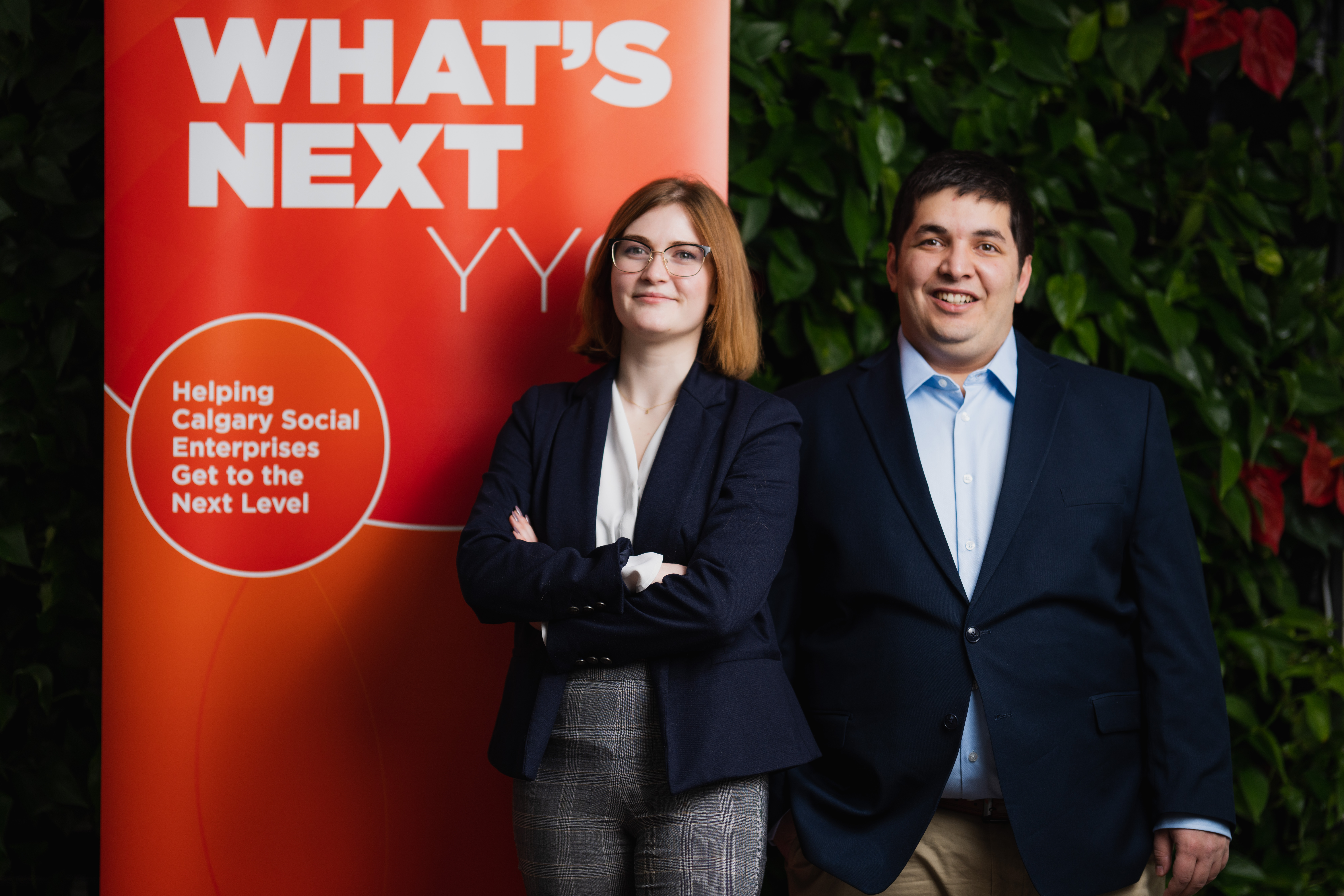 Five Basic Questions:
What is your social enterprise's 'origin story'?
"RetinaLogik started in 2019, when I went on a medical research trip to Uganda. I learned from the community that many treatable conditions went untreated because people could not travel, let alone afford, to access the necessary technology and specialists. I came home, filled with the drive to apply my knowledge in machine learning to design healthcare to come to patients, instead of the other way around. I worked with ophthalmologists for three years during my Ph.D. and saw the opportunity to apply artificial intelligence (AI) knowledge to make healthcare more portable, accessible, and affordable – starting with eye exams"
What are your current annual sales and annual social impact?
"We need to test our software before we can sell: We're in the clinical testing phase of our technology, gearing up for our beta launch planned for early Q2. Our goal is to make RetinaLogik software accessible for 2 million people by 2026."
What are you most proud of regarding your social enterprise?
"The fact that we were able to bootstrap all of our progress so far, including our development."
What's the next step for your social enterprise?
"Our next step is finishing our clinical trials and launching our beta version with partners internationally."
What's your ultimate dream for your social enterprise?
"To eradicate preventable vision loss with the help of our predictive eye exams and affordable social enterprise model."

 
Five Questions From Funders*:
When was a time someone showed you compassion and empathy?
"The latest that sticks out for me was during quarantine: I had been lonely and cooped up in my bedroom 24/7 for a while, like many. My friend stopped by spontaneously with homemade banana bread, and threw it through my bedroom window with a note to cheer me up."
When you look at your origin story, what are the small moments you look back on fondly?
"When we won our first competition, Innovation 4 Health. That was when we first met as cofounders 3 years ago, and I'm really proud of how far we've come, personally and with RetinaLogik."
In what ways has your social enterprise been reshaped by community needs?
"At first, we pictured our solution being used in clinics, and to support project-based screening internationally. We learned that access to eye care is still a huge problem that needs solving in Canada, and started pilot planning to enhance access to eye screening for Canadians who need it most."
How has your social impact evolved from what you originally envisioned?
"Now, we realized that we can have more impact in Canada than originally planned by partnering with health authorities and local organizations for project based screening, to help populations that still experience barriers when trying to access eye care services."
If you had to describe it in one sentence, what is the "why" behind your mission?
"1 billion people are losing their vision from preventable conditions, and they might not know it. We can be a critical piece of the solution to stop it in its tracks, before it's permanent."
*The local funders that provided questions are:
More About the Pivot on Purpose Summit (POP): POP, occurring November 18-20, 2021, is a free, virtual gathering that aspires to be the next step in a movement to reimagine the power of business models to solve social problems. POP is held in collaboration with the Trico Charitable Foundation (TCF), the NU Community Board, and the Canadian Sustainable Finance Network. Registration is open now.
POP Highlights Include:
Tariq Fancy, former CIO for sustainability investing at BlackRock

Alex Edmans, author of

Grow the Pie: How Great Companies Deliver both Purpose and Profit

R. Edward Freeman, the thought leader many regard as founder of stakeholder capitalism

21 Canadian social entrepreneurs 

Spotlight on Scotland, a world-leader in nurturing social entrepreneurship with initiatives including a 30 million Third Sector Growth Fund

And much more!