Trico Charitable Foundation is pleased to continue our social entrepreneurship ecosystem-building work by partnering with Thrive, Social Enterprise Fund and Social Venture Institute Hollyhock through the inaugural SVI Alberta event on October 15th and 16th, 2018 at the Banff Centre (read more about the partnership and Trico Charitable Foundation's social enterprise work here.)
We are extremely delighted to have a number of amazing organizations join us at SVI Alberta to share their own learnings with the ecosystem. We were able to connect with a few of these attendees who shared with us their involvement in social enterprise and what experiences they would like to share, the challenges they are facing and what they hope to discover at SVI Alberta.
Pam Krause is the President and CEO for the Centre for Sexuality (formerly Calgary Sexual Health Centre).  The Centre for Sexuality is a nationally recognized, community-based organization delivering programs and services that normalize sexuality and sexual health across the lifespan. Centre for Sexuality's involvement in social enterprise is through their program WizeGuys, which engages and educates junior high boys in human rights, sexual health, gender, and positive relationships. Pam is looking forward to the opportunity to engage with other players in the social enterprise ecosystem:
"I know this will give us the opportunity to learn about the successes and challenges of social entrepreneurs who are further along in their journey. It is also important to engage with other organizations within the province as the local context is important. We have different challenges and opportunities and it is exciting to think of building a larger social innovation community in Alberta."
One challenge the Centre for Sexuality would like to see addressed at SVI Alberta is working in the social innovation space within traditional funding structures. Pam states their team often comes across the challenge of needing flexibility and openness, while fitting into the box of what funders expect.
The Calgary Counselling Centre (CCC) is a charitable organization committed to improving the accessibility of mental health services and resources to Calgarians by providing affordable counselling services. They do this by offering counselling services on a fee-for-service and sliding scale based on gross income. Robbie Babins-Wagner, CEO of CCC hopes the SVI event addresses the following:
"I am interested in learning more about scaling up social enterprise initiatives especially those where the social enterprise is mature. I am also interested in hearing more about other social enterprise initiatives across the province."
Along with Robbie from CCC, Jeni Piepgrass, National Director, Development of Windmill Microlending (formerly Immigrant Access Fund) also hopes to learn about successful scaling strategies and tactics as well as product development, balancing social enterprise and charitable revenue streams, and new markets for their investment product. Windmill Microlending offers microloans to help skilled immigrants and refugees continue their careers in Canada.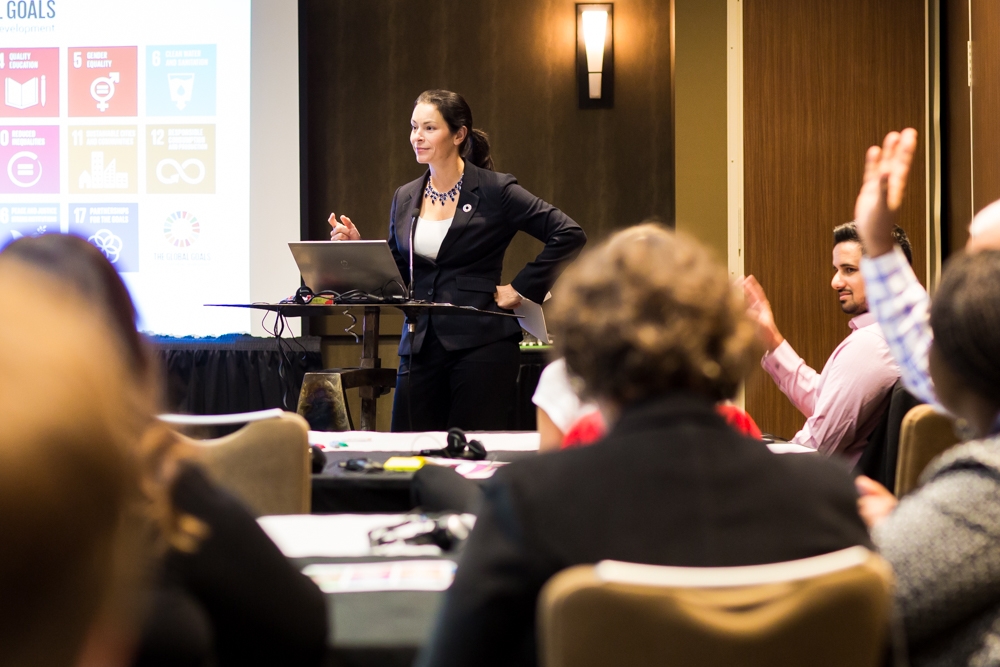 CINIM is a centre for innovation in mental health and well-being, with a focus on prevention and early intervention. They develop evidence-based programs which are experiential and educational, combining mind-body therapies and traditional mental health approaches. CINIM is involved in social enterprise through their e-mental health program, BreathingRoom, which helps youth (ages 13 to 24) learn ways to manage stress, depression and anxiety, and strengthen coping strategies. CINIM Executive Director Heather Thomas states that they have transitioned from being primarily a research-based institute to developing and delivering wellness programs, retaining a complementary research component:
"We hope to learn from the SVI Alberta how CINIM can compete in the for-profit marketplace operating as a charitable organization."
This group of SVI attendees are also looking forward to sharing their own experiences with the other participants. Pam from the Centre for Sexuality's advice to other social entrepreneurs comes from the book "Getting to Maybe: How the World is Changed":
"As a social innovator you need to be a thoughtful actor and restless thinker. Social enterprise is not a quick solution to a problem. And, it requires risk taking and working with new funding and business models.  What we have learned is that it is essential to seek good advice, surround yourself with experts, not just content experts, but business experts. And, most importantly, build a culture of social innovation within the organization, so that staff are willing to try new things, fail and learn, and then develop something to be prototyped.

For our organization, social entrepreneurship has meant working in a more disciplined way throughout the organization. We are scaling programs and solutions in a way that is research and evidence informed. The tension is always wanting to go fast and create something good or to use a disciplined approach and have significantly more impact.  It is a tension that we are becoming more comfortable with."
Both Jeni from Windmill Microlending and Robbie from CCC would be delighted to share their successful scaling experiences and what they have learned in the process. Windmill has also forged strong partnerships and identified a good market for their product.
Heather from CINIM adds her learnings:
"As non-profits, we are passionate about our missions and have an innate desire to serve humanity. To truly make an impact, strategic plans should be practical, executable and financially sustainable. Engagement from Board, staff and the community is essential to expand awareness of our organizations and achieve our goals."
It is clear from chatting with these attendees that SVI Alberta will be abuzz with an exchange of learnings. We cannot wait to discover more insights, revelations, and tips at SVI Alberta!