[box] By Karen Perl-Pollard, Haskayne School of Business. NOTE: This article was originally published on the University of Calgary's website and has been cross-posted with permission. [/box]
Give a man a fish and you feed him for a day. Teach a man to fish and you feed him for a lifetime. But what if you grow the fish? And healthy vegetables, together in one system?
This is the premise behind Deepwater Farms, the first-ever What's Next YYC Audience Choice recipient. Deepwater Farms is Calgary's first aquaponics farm, raising sea bass, baby arugula and mixed baby kale in a closed loop system.
"We want to bring the food closer to the people and people closer to their food," says Paul Shumlich, founder and CEO of Deepwater Farms. Shumlich is an alumnus of Mount Royal University while his co-founder Kevin Daniels, BSc'15 (Environmental Science) is an alumnus of UCalgary. "We grow in Calgary so we can support Calgarians and deliver the freshest food possible. With this award, we will be able to provide jobs for more underemployed people in the city."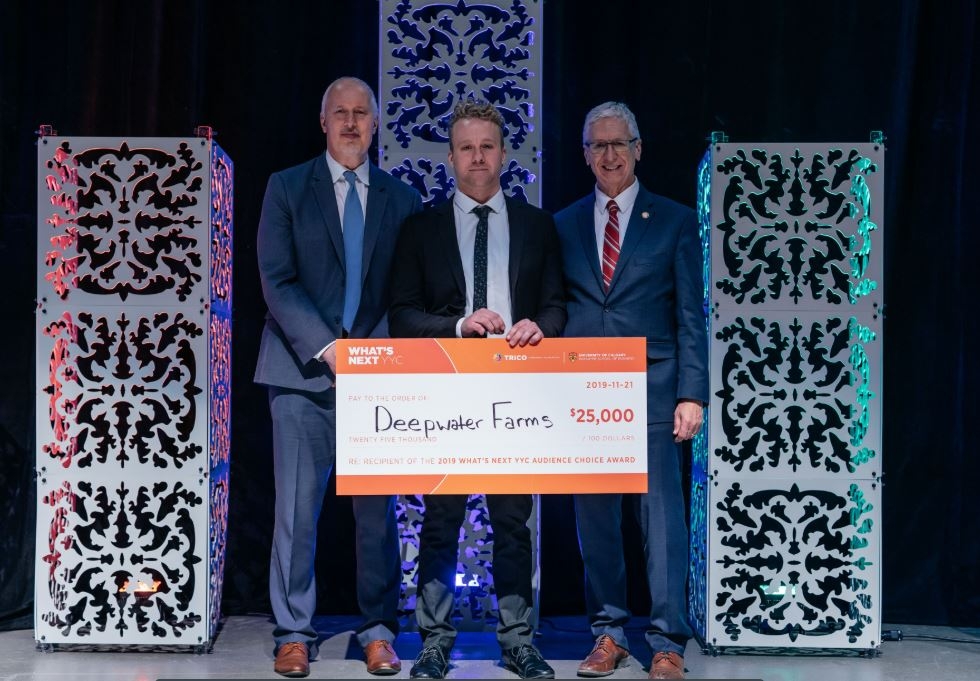 What's Next YYC is a new initiative from the Trico Charitable Foundation and the newly formed Trico Foundation Social Entrepreneurship Centre at the Haskayne School of Business to recognize some of the many social entrepreneurs in the city.
What is social entrepreneurship? It is taking that well known proverb – and pushing it even further to actually address why a person might not have access to fish in the first place. Social entrepreneurship uses business models — selling products or services — to solve social problems. Unlike traditional philanthropy, a social enterprise makes a social impact with a business model that creates value and is financially self-sustaining.
In addition to the Audience Choice award, three additional awards of $25,000 were announced at the MacEwan Student Centre on November 21. Each award was selected by judge, Charmian Love, Entrepreneur in Residence at the Skoll Centre for Social Entrepreneurship at the Said Business School at Oxford University. Ventures were evaluated on the potential to tap into the power of their business model to solve social problems, blend social and entrepreneurial business models in imaginative and innovative ways and address pervasive and entrenched gaps in society. The ventures also needed to possess a definite vision for the ultimate impact they will make.
From the outstanding pool of 10 finalists, the recipients of the $25,000 What's Next YYC honours are:
Judge's Choice recipients
Beaverlodge: An app that turns energy efficiency for your home into an easy game that saves you real money.
CMNGD: Employing people facing poverty through a sustainable commercial laundry service.
Universal Access: Accessibility consultants providing certified barrier-free environments.
Audience Choice recipient
In its inaugural year, the awards had over 32 applications from local social enterprises that have already won awards or successfully completed a social enterprise support program. (For a listing of all of the programs that supported the 10 finalists and the 3 honourable mentions, connect with the Trico Charitable Foundation blog)
"I was so proud to see so many UCalgary alumni and students who have founded social enterprises," says Dr. Jim Dewald, dean, Haskayne School of Business. Dewald also delivered a key note address at the event. "There is a big interest among our students to make a difference through business."
Skwachàys Lodge, was selected as the 2019 recipient of the $100,000 Social EnterPrize. Accepting on behalf of Skwachàys Lodge was David Eddy, chief executive officer of the Vancouver Native Housing Society, who shared how his organization was transformed by implementing a social enterprise model. The revenues from the boutique hotel and fair trade Indigenous art gallery support the artist in residence program, providing live/work studios, personal and professional development, support, services and peer mentoring for 24 Indigenous artists on three-year tenancies.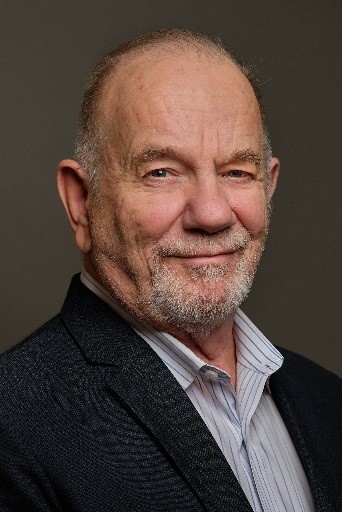 "It was great to see the support and interest in social enterprise with over 200 people in attendance at the awards," says Dan Overall, executive director, Trico Foundation. "I look forward to 2021 to see the new pool of ventures we will have to honour as Calgary continues to grow as a hub for social entrepreneurship."
Arbutus Medical, Redemptive Developments, and Ulula were named as the 3 top finalists for their work in social enterprise.
[box] The Haskayne School of Business and the Trico Charitable Foundation believe Calgary can be a global hub for social entrepreneurship and leaders in the evolution of capitalism. The Trico Foundation Social Entrepreneurship Centre was established at Haskayne in 2019 thanks to a $5-million gift from the Trico Foundation to support student experiences inside and outside the classroom including community-based learning, internships, curriculum development and research. To build on this momentum, both organizations are collaborating on the Social EnterPrize award for outstanding Canadian social enterprises and What's Next YYC, which awards prize money to Calgary & area based social enterprises. Learn more. [/box]