In This Blog:
Introduction: The Man, the Journey, the Book
The Idea of Social Enterprise
PLAN Finds its Social Enterprise Sweet Spot
Effective Partnerships
Impact Beyond Scaling
A Deeper Look at the Book:

The Quotable Al
The Quoting Al
Six Patterns to Spread Your Social Innovation

Meet Al Etmanksi and Vickie Cammack at CCVO Connections
Introduction: The Man, the Journey, the Book  
Although he never uses the word, there is a profound "duality" in everything about Al Etmanski.
Duality infuses his description of his journey. For example, it is the story of a man dedicated to inclusivity, with the courage to admit to burning bridges. It's the story of a person of action, who spotlights the times he has failed to act. It's the story of a person who has been part of a remarkable number of great accomplishments, highlighting how he came up short.
Al sees duality not only in himself, but in the concepts he grapples with to affect social change. As we will see, he has found there is more than meets the eye – difficult nuances, complexities – to the ideas of social enterprise, partnering, and impact/scaling.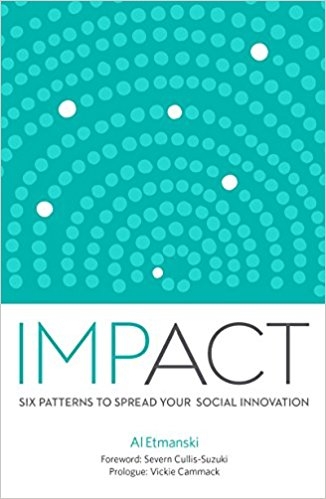 Finally, there is a duality to Al in that, while he is very much about the idea of movements and working with many, at the core of this journey is the duo of him and his wife, Vickie Cammack. Al's book, Impact: Six Patterns to Spread Your Social Innovation describes that journey (this blog is based on the book and our interview with Al). Vickie is mentioned throughout and wrote the prologue to the book.
The beginning of Al's journey as a changemaker happened long before, but this was a key turning point, and this is where we will join his story: When his second daughter was born with Down syndrome, Al became what he describes as "a parent activist in the disability movement."
Public enemy number one for Al's activism was the segregation of people with disabilities. He became head of the largest disability rights group in BC and ticked off a number of successes: closure of BC's three large institutions for people with developmental disabilities, closure of all its segregated schools, and closure many of its segregated classrooms and sheltered workshops.
Then one day a group of older parents cornered him and asked "What's going to happen to our sons and daughters with disabilities when we die?" Like all powerful questions it led to a series of cascading aha's that led to a major change:
Aha number one: With advances in the quality of medical care for people with disabilities, for the first time in history there was a significant chance they could outlive their parents.
Aha number two: While people with disabilities were no longer segregated, they were not really part of their communities.
The major change: The creation of PLAN, an organization to help build those communities.
But first, PLAN needed a plan for how it would be funded.
The Idea of Social Enterprise  
Al defines social entrepreneurs as follows:
"Social entrepreneurs leverage their resources and assets in two ways. They're either producers, who start a social enterprise or social-purpose business, or consumers, who use their purchasing power for social impact."
Al's experience of being driven to social enterprise by financial necessity is very common among social entrepreneurs. But his keen eye for the duality of things saw much more to the concept than the pursuit of money:
Money is the Engine, the Mission is the Car:
Al is a firm believer in "necessity is the mother of invention", but also believes it is most powerful when combined with love. In this case, the love was a group of parents that love their sons and daughters. They never lost sight of what the goal was, and that the social enterprise was simply a means to that end.
Find Your Social Enterprise Sweet Spot:
On a related note, social enterprise is not about taking you away from who you are. Instead, it's about taking advantage of the opportunities that have been in front of you all along. Finding the economic value in what you love is your social enterprise sweet spot.
Don't Lose Sight of What Others are Doing:
Social enterprise isn't just about connecting the power of markets to what you love, it's about connecting to others – to the history of those who have worked on an issue and those around you who are working on it right now.
"It's an almost paradoxical nature of social entrepreneurship to be head-down focused, you have to do that to be successful, while simultaneously looking up to see what's going around and joining up" explains Al. "I have yet to experience a social enterprise that is tackling a problem that no one else is addressing or that no one else has addressed."
The Culture Change of Social Enterprise:
Al worries that social enterprise (and social finance, for that matter), are almost seen as technical, whereas he sees them as cultural:
"At one point seventy-percent of our revenue was earned and that was because everybody in the organisation understood that being a social enterprise was something to be proud of, it wasn't just left to the director of social enterprise. The Board got it, everybody got it, it was cultural. The remit of a social entrepreneur is not just to produce a trinket that the world has never seen, it is also to change the cultural perception of how we use money/role of money in producing and tackling social/environmental challenges."
PLAN Finds its Social Enterprise Sweet Spot
For PLAN, a natural starting point to "What's going to happen to our sons and daughters with disabilities when we die?" was encouraging parents to develop a will and estate plan.
As good as this was, PLAN found its social enterprise sweet spot when it realized it was in future planning rather than providing will and estate planning services. Like teaching a man to fish versus giving a man a fish, it's a subtle but crucial distinction. Explains Al:
"PLAN's social enterprise strategy is based on quantifying our intellectual property – our knowledge of how to support the future planning requirements of people with disabilities and their families. Instead of giving away our expertise, we've made it the basis of our partnerships with law firms and financial institutions."
PLAN's social enterprise activities include charging a fee for some of its products and services to those who can afford it; partnerships with financial institutions, law firms, trust companies and estate-planning specialists; and a successful publishing arm.
Effective Partnerships
Vancity was PLAN's first partnership. While the partnership has since wound down, it remains a perfect example of the depth of thought PLAN puts into such efforts:
The partnership was inspired, in part, by the fact that PLAN members were twice as likely as the general population to be Vancity members;
PLAN gets a fraction of a percentage of the total amount of funds under administration by PLAN's constituency, including savings and business accounts, mortgages and RRSPs;
The partnership strengthened PLAN's member loyalty and member recruitment;
PLAN provided advice and training to Vancity and its staff on serving people with disabilities;
Vancity waived its membership fees for people with disabilities.
While PLAN is very intentional with its partnerships, Al is alive to the dualities involved, especially when they involve social purpose organizations partnering with for-profit organizations.
Most not-for-profits reading this might assume the dualities relate to the challenges emanating from the for-profit side of the partnership. Al believes the challenges cut both ways:
"I went into those early relationships with a pretty strong set of assumptions about people in the corporate and business world and I found the exact opposite. There is green washing and social washing, but so is there for non-profits. Non-profit washing i.e. the assumption because we are non profit that we are a force for good and can't do harm. In reality, we can perpetuate problems and get in the way of those we may have a better solution than we do."
As a social entrepreneur, Al is ready to partner with whoever is out there, if there is broad mutual benefit. It must extend beyond the partnership to benefits all pwd and families regardless of whether they are part of PLAN or not.
He elaborates:
"PLAN became an extremely successful book publishing company. There are 18 editions of our books out there. They raise money for families, they have earned good money for PLAN, plus they got the word out – they fulfilled our Mission. But we don't have a broad-based distribution system so, for example, with our latest two editions of our books in British Columbia, we have distributed them through London Drugs and BMO. Now any family, any person with a disability, can come in and get a free copy. That's a distribution system that's very profound, that we could never do on our own, that no book company could do for us. And it puts us in a relationship where we can work with BMO and other financial institutions to improve sign-ups for RDSP's."
Al has views on the mainstream banking model, but he is willing to work with them for the benefit of the roughly 30,000 families who have picked up their books via BMO. There is no other way PLAN could have afforded that type of distribution system.
Of course, there are lines Al won't cross, for example, media distribution channels that have distributed pornographic material. Al's gives the following advice:
"You can make policy principles about who you won't deal with, but I advise people not to make blanket statements about any sectors and, and here's the rub, about the people in those sectors. Our Mission, what matters to me, are all people with disabilities and you will find those in any age group, income group, and sector, you will find them in BMO. People should tailor their corporate partnerships to the values they are comfortable with, but when they do that they should think of the individuals who work for those companies, who do business with those companies, and whether they want to reach them as well; and if they do, they should balance whatever views they have about their corporate activities with the fact that they can reach them."
Impact Beyond Scaling
Social enterprises often talk of scaling, but Al sees an idea of impact that goes beyond scaling. As he explains it:
"Imagine waking up one day and realizing the seeds you have planted, even though they have grown well, will not spread unless: there is widespread acceptance; or broader distribution than you could ever accomplish on your own; or there is a policy shift needed in a regulatory system. If you come to any of those conclusions and realize you can't do it on your own, then you are obliged to think and act like a movement. Because what movements do is they change culture, they change people's attitudes, they confront urban myths and shift them, they prepare the ground for the policy and regulatory changes that you need, and they embolden politicians."
This can happen at any stage in the social entrepreneur's journey.  This was a big realization for Al, the third inflection point in the book that talks about a stage beyond scaling that brings you into culture and the cultural dimensions of change.
Says Al:
"… playing with these patterns has enabled us to affect the lives of hundreds of thousands rather than hundreds or thousands."
Unfortunately, this line of thinking will bring you into contact with two more dualities that need to be managed.
The first duality is exhibited through a story that involves three numbers: twelve, seventy-five, and twenty.
In 1787, twelve abolitionists met in a back room of a London print shop. At the time, seventy-five percent of the world's population were either enslaved, in forced labour, or in serfdom. Twenty years later, the British Parliament declared the slave trade illegal. Of course, it took another 100 years for slavery to be outlawed globally and racism continues to this day, as does human trafficking; but there is no denying the twelve, seventy-five and twenty arch was pretty impressive. Here is the killer question, one that lies at the heart of the first duality: If you knew the social change you seek would take twenty years (and even then, much more work would be needed), would you walk away?
The time required for social innovation to have impact can't be measured in hours or even years, but in decades or half-lifetimes. And that is one of the harshest dualities of social change:
"We must resign ourselves to a terrible paradox: being patient despite the urgency of the crises we see around us."
The paradox (duality) of short-term success versus long-term impact is the central theme Al's book grapples with.
The second key duality to scale and impact relates to our ability to strive for the giant goals of cultural change while also appreciating the importance of what are typically regarded as small acts:
"Even though you may be engaged in a small act, like planting a garden or helping keep your cull de sac free of garbage, it doesn't mean you can't be majestic in your aspirations. My interest is in legitimizing everyone's actions and having us appreciate that there is far more caring and ingenuity going on in our society than we appreciate. I have tried in my career to short circuit it or short-cut it and I have found that it wasn't very successful. That is why I am about resurrecting the ordinary and making sure that they are part of the equation. It doesn't mean we don't need a new breed of politicians, but those politicians will be emboldened by movements, and a movement is comprised of ordinary people, not just social enterprises, Foundations, non-profits, socially responsible businesses, etc. We need all of that."
It's also why Al prefers to talk about patterns rather than strategy:
"Patterns include strategy but there is more: pattern recognition is an essential skill. It keeps you curious, able to recognize something that was surprising, and to look at it not as an aberration but as something the system is telling you should be pausing and thinking about, and incorporating into a revised strategy."
15 Years Later: PLAN Seeks to Scale Beyond Impact
In 15 years, PLAN racked up a pretty impressive list of accomplishments:
The world's first Registered Disability Savings Plan;
As of the writing of his book, there are more than two billion RDSP dollars in the bank accounts of people with disabilities;
A citizen-based theory of disability;
Development of the representation agreement, a grassroots alternative to legal guardianship;
Groups of families adopting the PLAN model in other parts of Canada, Australia, New Zealand and the US ;
Foundations wanting to fund PLAN; and
Awards and accolades rolling in.
However, the list didn't lead to a sense of satisfaction; it led to an existential crisis. Vickie and Al realized they had failed to make a dent in the profound loneliness experienced by people with disabilities.
Even with the new-found desire to meet this important goal, Al notes it was hard not to slip back into old mindsets of disability: The easier and quicker fix of improved program and efficiency gains in disability service provision beckoned, trying to stifle any thoughts of a completely new way to support people with disabilities. On the other hand, they had to make sure impatience for a new, audacious level of impact didn't compromise the quality of their decisions:
"As we made decisions and came to an agreement – which was slow and laborious and me fighting the demons saying we weren't moving fast enough – we agreed that if one of us changed our mind over night they would say that and we would go back at it again."
The intentionality, determination, and aspiration paid off. In 2005, PLAN set its sights on the following movement objectives:
To embed a 'full citizen' perspective in society's structures and institutions; and
To shift the cultural consciousness of people with disabilities from needs and inability to contribution and participation.
"We also knew we would never achieve them in our lifetime", says Al.
They created the PLAN Institute for Caring Citizenship to share its values, concepts and practices with other groups. They established mentoring relationships with more than forty grassroots family groups around the world. They host annual retreats, publish books and manuals and offer online training. And they have shared their work with interested groups such as family caregivers, people with chronic illness and seniors.
They also created the Institute for Caring Citizenship and Tyze, a for-profit providing expertise in personal online support networks.
Tyze is helmed by Vickie. Al says Vickie wants to spread the benefits of a network model of care to millions, but:
"… her bolder ambition is to spark a policy shift – to see policy move from an individual focus toward a network-centric model of care."
Vickie has grown Tyze's network substantially. Equally important, she has worked with the federal, British, and US governments and attracted major funders. Saint Elizabeth Health Care was so attracted to it, not only did it offer it to its clients, it recently bought the company and is expanding its reach even further.
A Deeper Look at the Book: 
[author] [author_image timthumb='on']https://tricofoundation.ca/wp-content/uploads/2018/03/Al.jpeg[/author_image] [author_info]The Quotable Al
"Just because you have a shiny new solution, the world will not beat a path to your door."
"So-called ordinary people are constantly inventing solutions most of us can't yet see. Our job is to tap into this latent force in ourselves and in others."
"… our effectiveness improves when we fall in love with the issue – its mystery, its brokenness, its contradictions."
"His arrogance and ignorance were dreadful. My polite silence was worse."
"All groups have a market impact, even the so-called poorest of the poor."
"What we discovered was that fear is a natural reaction to moving closer to the truth, and that it's important to make friends with the unknown." [/author_info] [/author]
[author] [author_image timthumb='on']https://tricofoundation.ca/wp-content/uploads/2018/03/Al-2-crop.jpg[/author_image] [author_info]The Quoting Al
Al's book quotes an astonishing array of sources, from The Tragically Hip to the Pope. Here are some samples:
"A new idea is fragile. Its success depends upon the environment in which it emerges", Waterloo Region Museum
"The system isn't working for the 1% either", Charles Eisenstein
"No movement is as coherent and integrated as it seems from afar, and no movement is as incoherent and fractured as it seems from up close", Troy Duster
"It is my conviction that slight shifts in imagination have more impact on living than major efforts at change." Thomas Moore
"Ten percent of any new initiative is the idea. The rest is implementation, and that's what I focus on. You have to be smart about cutting through inertia", John Lekich
"What we must do now is increase the proportion of humans who know that they can cause change", Bill Drayton
"We're all newcomers, and the best thing we can do is listen. Listen with respect to what the problem is telling us. Try to spot the patterns that are keeping the particular system unhealthy and help it heal itself", Paul Born[/author_info] [/author]
[author] [author_image timthumb='on']https://tricofoundation.ca/wp-content/uploads/2018/03/number-6.jpg[/author_image] [author_info]The Six Patterns
Treat these patterns as an integrated set rather than applying them piecemeal.
Pattern One: Think and Act Like a Movement
Movements do two things better than other forms of organizing, such as committees, task forces, partnerships or coalitions:
• They are the ultimate inclusive container, encompassing the full assortment of actors required for transformative change.
• Movements address the most critical yet elusive set of change variables: culture. By "culture" Al means those hard-to-change habits, beliefs, working relationships, authority flows and stories about the way things should be that most of us prefer to hang on to.
The power of movements is to change paradigms, to shift the boundaries of what is socially acceptable and expected.
But this isn't about you starting a movement; it's about supporting the movement(s) you are already part of. Al wants us to be more deliberate about aligning our efforts, choosing "… which parts of a movement's vision we are capable of implementing and which parts should be left to others."
Pattern Two: Create a Container for Your Content
Make your message easy to grasp. Of course, content comes first (do your research, get the facts right, and be anchored by ethics) but framing and packaging will enliven your ideas and inspire people to action:
"Metaphors are essential for communicating beyond your base and for reaching people who aren't steeped in the issue and its accompanying jargon."
Pattern Three: Set the Table for Allies, Adversaries and Strangers
To achieve lasting impact we can't be on parallel tracks or at loggerheads: "Solutions spread when we move beyond blame, competition, misunderstanding and mistrust."
Pattern Four: Mobilize Your Economic Power
"Your membership or constituency is an untapped economic market that, when properly mobilized, will both finance and further your social innovation." Note the phrase "finance and further", both are essential.
Mobilizing your economic power can disrupt business models, acquire flexible funds, reduce dependence on grant funding, and develop business partnerships that help spread impact.
Pattern Five: Advocate with Empathy
We must stop poisoning the political ecosystem. Instead, we should put aside tactics of blame and criticism and become solution-based advocates.
"If we want government to have empathy for our issues we must develop empathy for its issues as well." For example, today's governments have shorter attention spans and are more risk-adverse, and our change efforts need to respect that.
Pattern Six: Who is as Important as How
"… social innovation is enlightened by who we are – by character, not technique." Therefore, pay attention to what nourishes and replenishes your spirit, and have the humility to admit your limitations and fears. [/author_info] [/author]
[author] [author_image timthumb='on']https://tricofoundation.ca/wp-content/uploads/2018/03/CCVO-crop.jpg[/author_image] [author_info]
Meet Al Etmanksi and Vickie Cammack at the CCVO Connections Conference
Wednesday, April 11 will be a stimulating day of discussion that builds on CCVO's pivotal research on adaptive capacity in the nonprofit sector. Connections Conference 2018 brings together professionals from Alberta's nonprofit, government, and business sectors to continue the conversation and explore new ways to work together. Hear from thought leaders who will stretch your thinking. Make valuable new connections across sectors. Be inspired to create positive change by thinking differently about how to lead, collaborate, innovate, and more.
Vickie and Al's Connections Conference session is called "Thinking Differently About Caring – the foundation for social change" and will be moderated by James Stauch, Director, Institute for Community Prosperity, Mount Royal University.
Click here to learn more or register.[/author_info] [/author]
Al sums up his own journey as "fumbling towards ecstasy". He thinks collectively we could be on the cusp of a renaissance in social problem solving, but the first step is how we each work on ourselves.  Of course, that can be surprisingly difficult, but with the benefit of his inspiration and insights, we should see less fumbling and more ecstasy.
News: Check out Al's new initiative SPARKS, the soon to be largest collection of social change quotes through the voices of women, Indigenous people, people with disabilities and Canadians!