IRP funding will help Biosphere Institute of the Bow Valley pursue a social entrepreneurship opportunity.
[box] The Investment Readiness Program was created by the Government of Canada. As the Government of Canada explains: "The Investment Readiness Program (IRP) is a 2-year $50 million pilot program designed to help advance Social Innovation and Social Finance (SI/SF) in Canada by building on existing supports to help catalyze community-led solutions to persistent social and environmental challenges. The pilot will provide a learning opportunity to inform future direction on how best to support and mobilize the social finance sector." Learn more here.
This blog series by the Trico Charitable Foundation spotlights successful grant recipients of the first IRP round of grants who reside in Alberta or have received the Social EnterPrize. The goal of this series is to help inspire, inform, and nurture the ability of social entrepreneurship to close the gaps in Canadian society.  [/box]
Not only does the Biosphere Institute of the Bow Valley (Biosphere) offer award-winning education, research, and community engagement programs, they also continue to serve as a community resource centre, maintaining thousands of records on local ecology and planning in their public library. Biosphere is now looking to undertake business and financial planning for a new social enterprise they helped to create, called Bow Valley Green Energy, to prepare it to accept investments in community-owned and-managed renewable energy projects.
Biosphere first heard about the IRP funding through their close relationship with the Calgary Foundation and realized it was the perfect fit for their new social enterprise. Jodi Conuel, Program Coordinator of Biosphere, explains there are several moving parts to their project:
"We are using the IRP funds to pay consultants to undertake all of the assessments Bow Valley Green Energy needs to enable installation of renewable energy on a particular site. We are working with a solar contractor called KCP Energy. When you go to solar contractors to tell them that you want a solar installation on your roof, they provide a quotation. What most people don't know are the assessments they have to do prior to the installation which are all tied up in the quotation, such as a structural assessment, electrical assessment, a racking engineering assessment, and a roof warranty assessment."
Biosphere's goal is to break down the process of having to tick off all of these boxes before you can have solar power. They are working with KCP Energy to get all of those assessments completed prior to installation for three sites that they have selected from their initial 2019 feasibility study into community generation. Jodi says:
"In the end, we will have three sites that we call "shovel ready". The second piece is working with a lawyer who is helping to formulate an offering memorandum and share purchase agreement. These are legal documents you must have prior to selling investment shares. This lawyer has also helped to finalize Bow Valley Green Energy's bylaws, which obviously fits very well with being investment ready."
The third part of their project is the business planning and financial planning. The goal is to take a fine tooth comb to Bow Valley Green Energy's business plan and financial model:
"Putting all those three pieces together, by the end of the project we intend to have three potential host sites that are ready so that Bow Valley Green Energy can start to sell membership and investment shares. Hopefully, by the end of January, we should be pretty much wrapping this up and getting ready to help with the launch."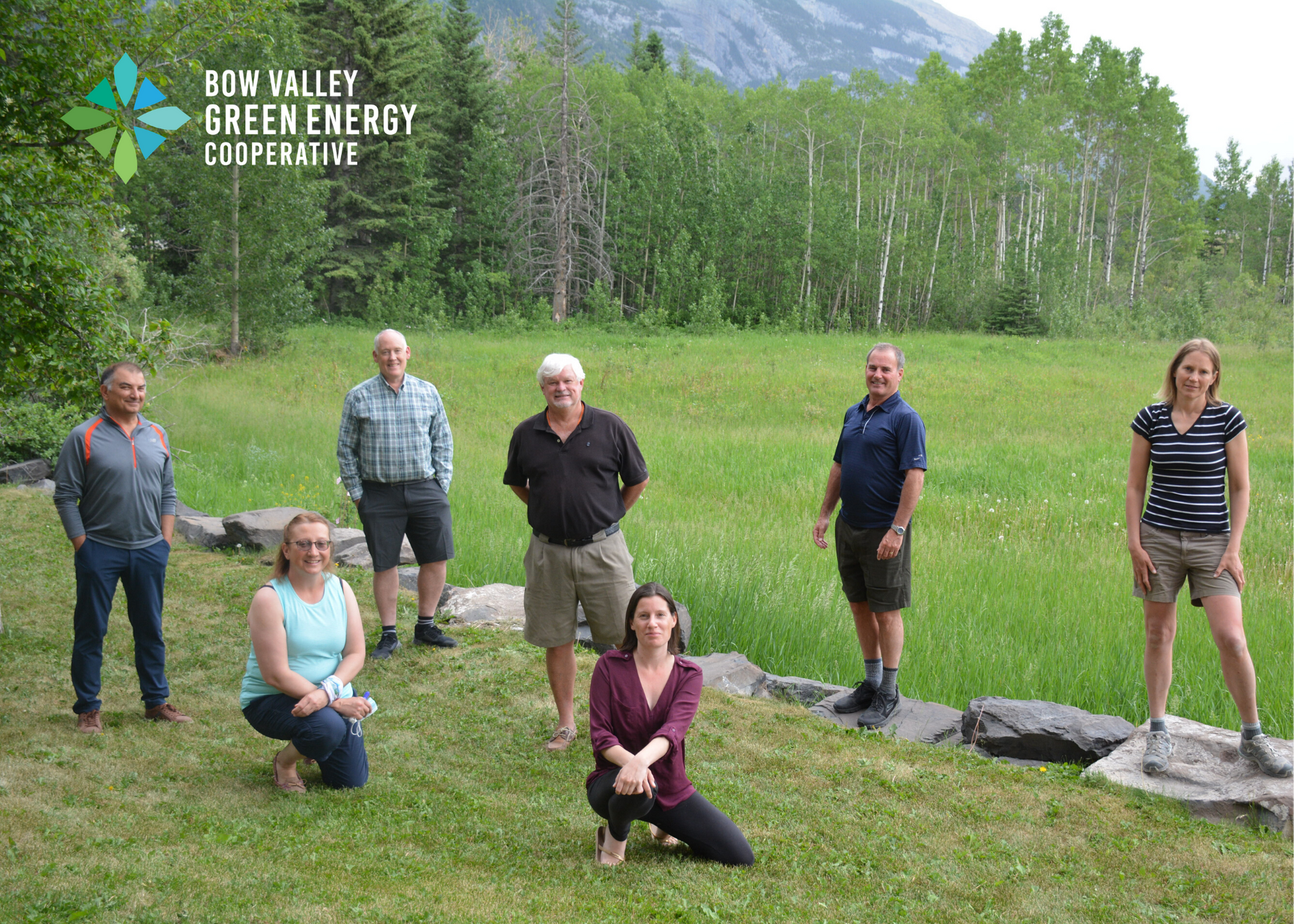 It is also very important to Biosphere that people realize that Bow Valley Green Energy is a volunteer team:
"They are a volunteer driven organization that is really community focused. Their goal is to make money to facilitate renewable energy installation by offering a local, ethical, investment pathway. All profits will be fed back to shareholders, reinvested into renewable energy or placed into a social benefit fund."
Bow Valley Green Energy's ultimate vision is to make renewable energy affordable and accessible. In the future, they hope they can make enough money to feed some of their own money back into the community in ways such as providing grants or loan opportunities for residents to install their own solar. They continuously assess how best to use their money in the most socially minded and conscious way. Biosphere will do all it can to continue to support them until Bow Valley Green Energy is ready to "fly the nest".