"The most profound technologies are those that disappear. They weave themselves into the fabric of everyday life until they are indistinguishable from it." –Mark Weiser
Dutch designer Borre Akkersdiijk is making waves in both the fashion and technology industries by creating several clothing pieces that interweave (literally and figuratively) input devices, Wi-Fi routers, and air purifiers. Borre's acclaimed career started when he moved to Paris developing textiles and was even featured in Paris Fashion Week. He was then approached by The Technical University of Eindhoven to help solve a problem with wearable technology:
"Three years ago I was asked by the technical university [The Technical University of Eindhoven] to join some experts on the CRISP project and there we developed the pillow"
Borre used circular knitting machines to invent a pillow that helps people with severe dementia communicate. The innovative pillow consists of a thick padded shell with motors inside so patients with dementia can share their feelings with their caregivers as they hold the other side of it.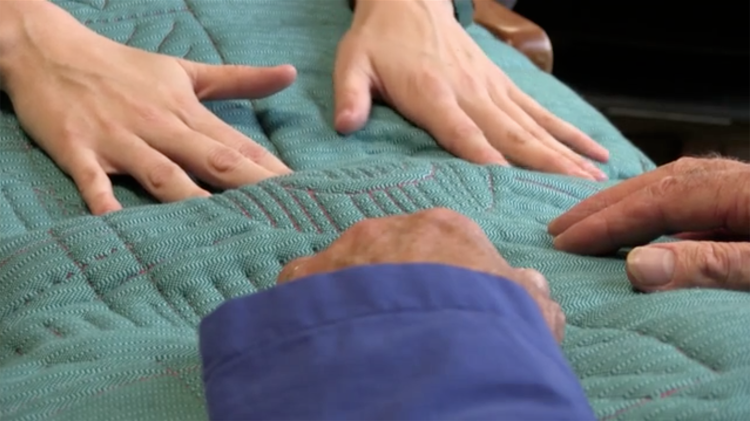 How was Borre inspired to use the technique of circular knitting machines originally built for making mattresses?
"I was always intrigued by processes and I was always looking at the machines and always wanted to know how things were made. The machines are made for industrial use to produce hundreds of meters a day. When I saw this, I thought there were so many opportunities and that was the start. Why we started using that as a base material for wearable technology was because the technical university was using off the shelf fabric that was bulky and hard. They [the university] asked me if they could use my already built material that had some cushioning around it and that was the start of using the cushion material as a base layer."
A true social entrepreneur, Borre did not want to go with the easy solution of simply cutting the material and inserting the motors and embed it more fluidly:
"I did it for the love of it and always believed it [the process] could be more seamless"
One of Borre's most famous wearable technology pieces is the BB.Suit, which will be featured at Beakerhead from Sept 16th-20th, 2015. The BB.Suit is reimagining the ability of wearable tech to solve local problems. Forget about a band that tells you many steps you have taken, what about clothing that improves the air around you, unlocks your car, or warns you that you are getting sick? Featured in WIRED Magazine, Beijing Design Week and the SXSW Festival, BB.Suit has been called 'Clothing 2.0' by Fast Company.

When Borre was designing the wearable tech, he originally thought he could put it into a sweater but instead created it as an "onesie" because he thought it would provoke more conversation. Borre explains how having a good idea sometimes might not be enough and ideas need to be presented in a way that stirs discussions:
"First of all, if you want to get attention with creating technology or a clothing piece you have to push the boundaries. With fashion, you have to create materials or beautiful shapes that add aesthetic value. With technology, you have to create something that people can use that makes life easier or more fun. So when we started providing that, for me it was logical."
Borre is not focused simply on producing mass market; his concentration is on proof of concept:
"I think if you can make a mass market product that would be really good and could help and could create something that could really change, you have more impact. What bothers me sometimes is that everyone is throwing concepts on the internet yet they don't make a proof of concept. At least try as hard as you can and show what stage you can really build it and then of course you can make the story better."
The impact Borre hopes he can make is connecting what he sees as our two worlds of communication:
"It's more of a dream. There is the physical world where we talk to each other and interact. We also have our online world where we connect with everyone and for me those two worlds are both as real as they may get. For me, to try and make a bridge between the physical and online world is super interesting. It's like in the movie the Matrix they talk about that- like what is the real world? I think we are on the verge of really getting there and I would love to be a part of that."
Because Borre and his team are pushing boundaries all the time, it is inevitable that he faces obstacles.
"It is becoming less and less. When I look a few years back when we were already developing and pushing boundaries with textiles, people didn't really believe in us. It seemed like we had to first work for companies like Nike and Louis Vuitton. But they started working with us because they saw what we were doing. Now when I give a lecture or I explain why we are making a product, people listen and use their own imagination and take it as the truth."
An example of how Borre pushed the envelope and made a statement was when The Bijenkorf (a warehouse in the Netherlands) asked him to design an outfit with the theme of Typography.
"We were being pushed so much by the jury and I got a bit angry about it. First of all they asked us to be a part of this competition and they said they asked me because of my creativity and mindset but then they started pushing us in a different direction."
Borre decided to put the lyrics of Erykah Badu on the back of a jacket he created because that is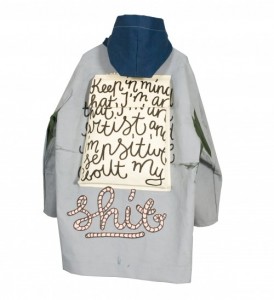 exactly how he felt:
"Keep in mind that I am an artist and I am sensitive about my shit"
They laughed at themselves for doing that but they actually ended up winning the award. Borre offers some advice for the entrepreneurs and envelope pushers that get frustrated on people not hearing them out on their ideas:
"You always need to prove yourself, you can shout it as loud as you want but for me I think you need to prove what you can do and if someone doesn't want to listen, go to someone else or try it again. Don't spend your energy on the things that don't work, spend your energy on the things that do work."
To hear more about Borre and 4 other remarkable social entrepreneurs, sign up for the Beakerhead for a Better World panel to be held on Sept 17th– from 11:30 am to 1:00 pm: bit.ly/TricoB4BW 
Beakerhead for a Better World is a collaboration between Beakerhead and Trico Charitable Foundation