$700,000 Commitment Celebrates City Proclamation, Builds on YYC's Energy as a Social Entrepreneurship Hub
Calgary, September 15, 2016 (Embargoed until 4:00 a.m. MST September 16, 2016)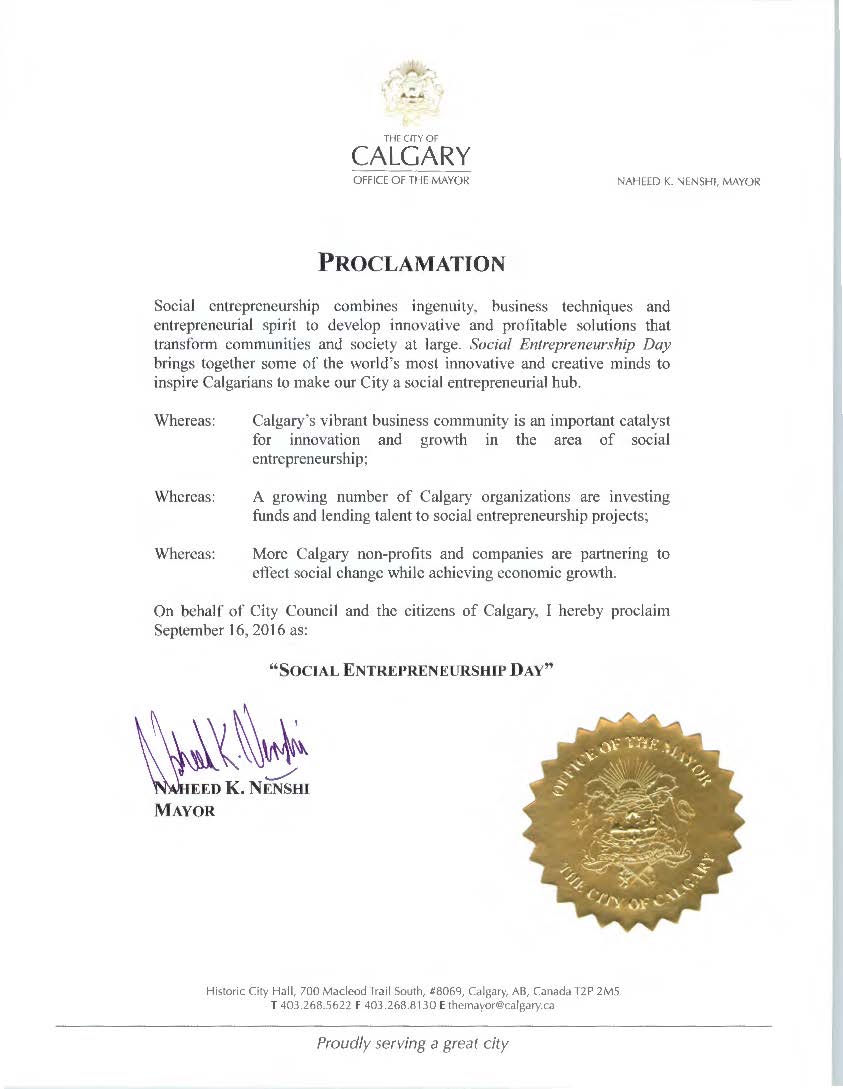 Note: The formal proclamation will be announced as part of Beakerhead at the World of Social Entrepreneurship event to be held at Venue 1008 (itself a social enterprise, located in Inglewood at 14th Street SE) at 7:40 a.m. on September 16, 2016.
To commemorate the first official Social Entrepreneurship Day in Calgary, Trico Charitable Foundation is pleased to announce $700,000 in local social entrepreneurship programming.
"The existence of the Social Entrepreneurship Day Proclamation as well as the wonderful sentiments it contains are a fitting testament to the extraordinary momentum Calgary is gathering as a hub for social entrepreneurship" says Dan Overall, Director of the Trico Charitable Foundation. "We are honoured to both celebrate and support that momentum with this commitment to our home city."
View the Proclamation here.
The programs include:
A) The Alberta Social Entrepreneurship Support System (A.S.E.S.S.):
This new online capacity building toolkit with coaching support will help organizations looking to develop or start a social enterprise.
Of course, planning, even great planning, can only take you so far. As a result, The Trico Foundation is also making available a total of $250,000 in grants for 2016 as part of A.S.E.S.S. This is a five-fold increase from the first incarnation of the program, which committed $50,000 a year when it was announced six years ago.
Note: although the planning toolkit is available to all organizations, the goal is to have the Foundation's grant funding available to charities and non-profits in Alberta that serve Albertans. While the funding of charities is currently allowable, we are working with CRA to confirm the parameters in which we can provide funding to non-profits. Stay tuned for updates by subscribing to our newsletter.
While the program is still in the pilot stage, Alberta organizations engaging in social entrepreneurship are invited to access A.S.E.S.S. by emailing info@tricofoundation.ca.
B) The World of Social Entrepreneurship:
With lead partner Beakerhead, The World of Social Entrepreneurship is an annual event bringing the most inspiring examples of social entrepreneurship from around the world to Calgary.
The Trico Charitable Foundation is committing $150,000 over each of the next three years to this program.
"By bringing some of the best and brightest examples of social entrepreneurship from around the world to visit Calgary, we hope to help galvanize the local the conversation, bring business opportunities to YYC and, perhaps most importantly, showcase local social ventures and help them gain the insights they need to take their efforts to the next level" said Overall.
A classic example of the latter is the fact that The World of Social Entrepreneurship 2016 will see five amazing local social ventures (Age-in-Place Laneway House, aGRO Systems, Bundles of Hope, Deepwater Farms, and Green Cup) competing in a $10,000 pitch contest and receiving feedback from six social entrepreneurs visiting YYC (VeloMetro, Survival Capsule, Autism Glass, ShelterBox, LuminAID, and Lucky Iron Fish). These six visiting social entrepreneurs are incredible successes by any measure
Acclaim: kudos from ABC's Shark Tank to Forbes Magazine and B-Corp;
Growth: growing from shipping 100 units a month to 10,000;
Sales: hitting revenue of $5 Million;
Impact: responding to over 270 disasters and humanitarian crises in over 95 countries.
Trico Charitable Foundation thanks the many leaders in our city that have inspired and made Social Entrepreneurship Day possible, including Calgary's Mayor, Naheed Nenshi, and the 11 organizations that have partnered with us for the 2016 edition of The World of Social Entrepreneurship: Beakerhead; United Way of Calgary and Area; Capital Ideas; ATB BoostR; Calgary Economic Development; Innovate Calgary; Chiu School of Business, Bow Valley College; Institute for Innovation and Entrepreneurship, Mount Royal University; Haskayne School of Business, University of Calgary; Startup Calgary; and The Calgary Foundation.
"We are excited to be a part of the social entrepreneurship movement here in Alberta, and have created a new position within ATB – Manager, Social Entrepreneurship.  These passionate individuals will be focused exclusively on providing additional support to non-profits and for-profit businesses in Alberta as they navigate the social entrepreneurship landscape" Teresa Clouston, Executive Vice-President, Business & Agriculture, ATB.
About Trico Charitable Foundation
Established in 2008, the Trico Charitable Foundation seeks to close gaps in society by provoking innovation and building capacity in social entrepreneurship. Its work focuses on the Canadian context through four key areas of focus: 1) local capacity building and grants for non-profit social enterprises in Alberta, Canada; 2) a biennial Social EnterPrize which celebrates mature Canadian social enterprises (for profit and not-for profit) and commissions case studies on the recipients; 3) The World of Social Entrepreneurship, an annual Calgary event in partnership with Beakerhead that attracts over 100,000 in person visits and celebrates the coming together of science, engineering and art to solve social problems; and 4) working with the JW McConnell Foundation on RECODE, an effort to nurture social innovation and social entrepreneurship in Canada's post-secondary institutions.
For more information contact: Dan Overall, Trico Charitable Foundation, (403) 483-0996 (smart phone) or daniel.overall@tricofoundation.ca