On March 25th, 2017, The Canadian edition of the Global Challenge was hosted in partnership with the Trico Charitable Foundation, the J.W. McConnell Family Foundation's RECODE initiative and ATB Financial. The Global Challenge was launched by the Skoll Centre for Social Entrepreneurship at Oxford University to combat the rise of heropreneurship, a growing trend where people jump to solutions before fully understanding the social problem. Instead, the Global Challenge awards students for demonstrating a deep understanding of the social and environmental challenges they care about.
Congratulations go out to the winners of the Canadian Final: Mount Royal University (MRU) and Simon Fraser University (SFU)! MRU's Braden Etzerza for his work on food-security in fly-in communities in Northern BC and the SFU team for their project on reducing the volume of medical waste generated by Canadian Hospitals.
SFU's team consisted of Iman Baharmand, Kimberley Venn, and Alec Yu with support from Shawn Smith, professor and founding director of RADIUS, a social innovation lab and venture incubator based at SFU's Beedie School of Business. Alec explains the issue they are focusing on:
"Our team is looking at the management of solid waste in hospitals, which is comprised of any non-biohazardous refuse and makes up over 85% of all waste produced in hospitals. Currently, due to regular hospital overstocking, disposable-based business models, and a lack of productive policy around hospital sustainability, this issue is hurting our environment and costing hospitals millions of dollars. Through working and volunteering in hospitals, we saw this issue first hand. We actually met with nurses who would take excess solid waste with them on Nurses Without Borders trips so that the still-useful equipment could fill a need. As three students who are deeply passionate about both healthcare and sustainability, we adopted the problem quickly and were excited to start making progress."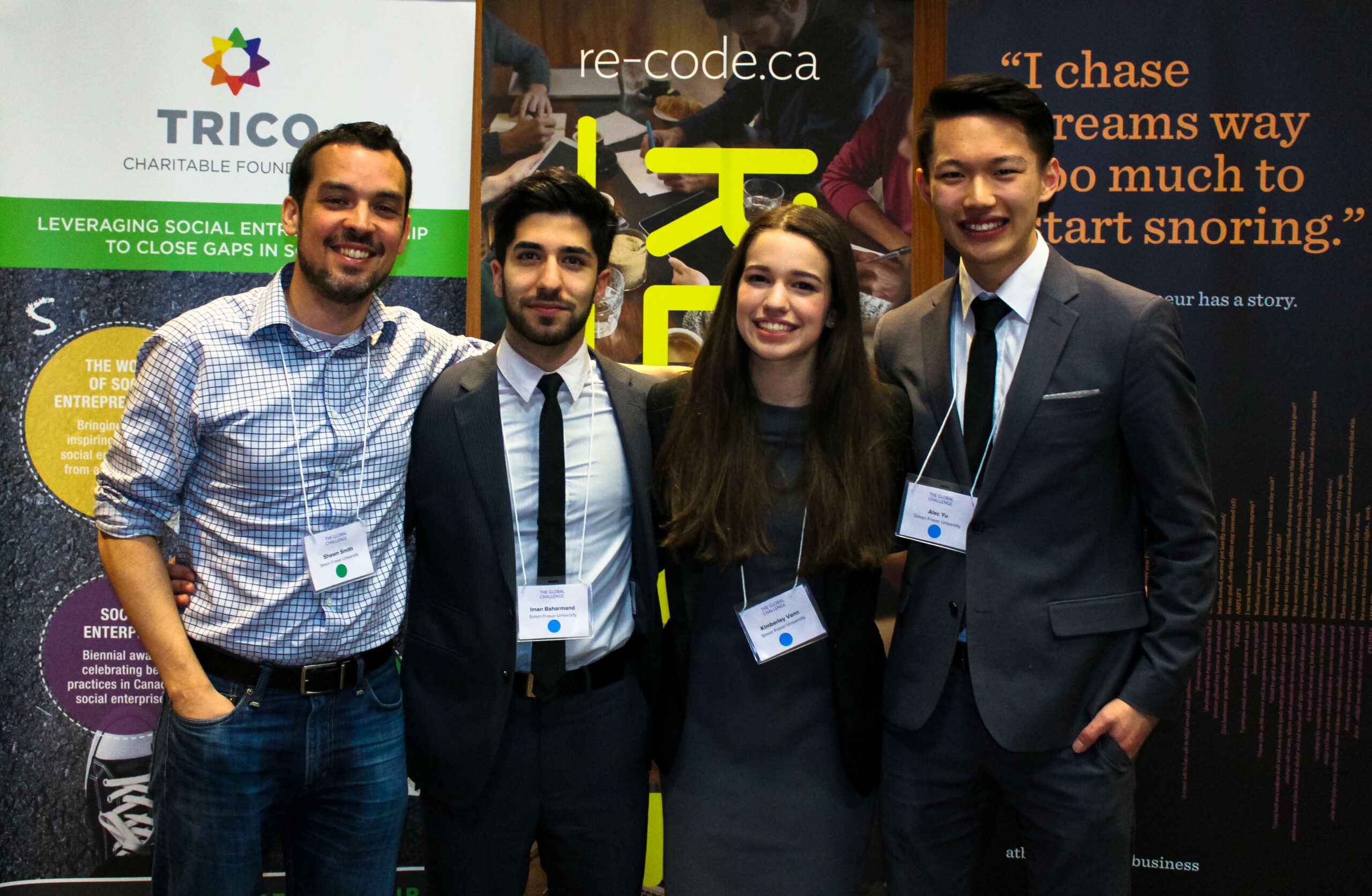 MRU's Braden describes his project:
"For the Oxford Global Challenge I did research on the issues of healthy food access and food insecurity in my home community of Metlakatla, British Columbia as well as three other coastal communities."
Braden, who also won the People's Choice Award, explains how he became interested in his issue:
"I have always been interested in the betterment of my home community and through my research realized that our neighbours as well as my home community are being faced with issues of healthy food accessibility. All four communities are surrounded by a plentiful ocean but despite this the communities face many problems with food insecurity. I wanted to learn more about this issue and how to help my own community and others in similar situations."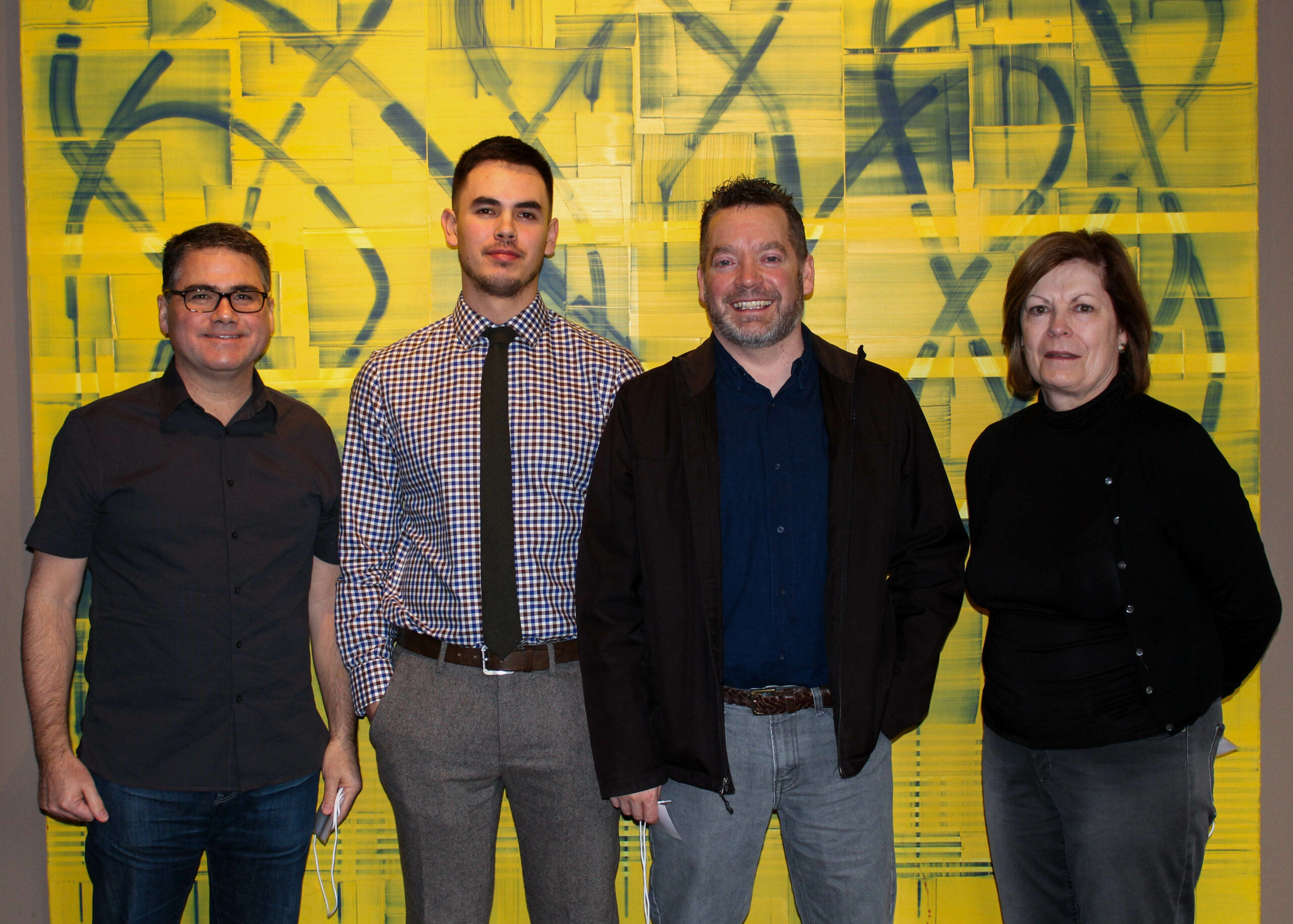 James Stauch, Director of the Institute for Community Prosperity at MRU said they were drawn to the Global Challenge because of the key concept of thinking deeply about a problem versus just the solution:
"It is all about understanding the underlying nature of the issue. Not only does this apply to social entrepreneurship, it also applies to life in general and appreciating the complexity that underlies in a problem."
The SFU team expresses their biggest learning from the Global Challenge:
"Through the Canadian challenge, we came to fully appreciate the value of working with interdisciplinary teams and meeting diverse change makers. Our time in Calgary allowed us to connect with passionate students from other universities and learn about their projects. Both have allowed us to grow, develop a deeper understanding of the problem, and become connected with resources to tackle our project moving forward."
Braden says that his biggest takeaway from participating in the Global Challenge was learning about his Indigenous heritage and background:
"Although I did learn a lot about my culture; it was strange due to the fact that majority of the papers or articles I was reading were published by non-Indigenous people and not learning about my culture from my own ancestors."
SFU's Shawn Smith says that they are thrilled to host an SFU edition of the Global Challenge as part of the Canadian competition:
"SFU had over 50 teams engage in the challenge, with a final round of 12 presenting their understanding of issues ranging across refugee integration, foster care systems, sustainable fashion and of course the team that went on to the national round who focused on issues around medical waste. The calibre of finalist teams from across the country was really impressive and we are excited to help represent Canada in the global round!"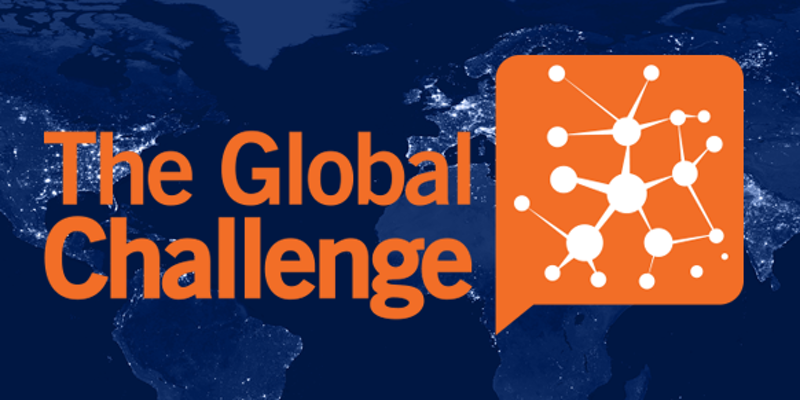 The SFU student team tells us that none of this would have been possible without the support of Shawn Smith and the SFU Change lab program:
"Shawn and his course first brought us together, and then taught us the fundamentals of how to make lasting social change happen within our communities."
MRU's James Stauch tells us that the Global Challenge has helped not only Braden but all of the students involved have access to learning well-beyond the classroom:
"Braden now has a sense of agency to be a changemaker and a leader in whatever he does. Not only can he go back to his hometown looking for a solution to the problem, he can go back with a richer understanding of the problem and the potential to generate enthusiasm from the residents."
Braden explains that his school has also been tremendously helpful in every aspect of his participation in the Oxford Global Challenge:
"I had such great support with writing and grammar, presentation skills and graphic design. I would not be where I am today without the support of my university, the institute for community prosperity, and the countless people who have helped me on this journey."
We would like to congratulate all schools for participating in the Canadian Global Challenge: Bow Valley College, Carleton University, Concordia University, HEC Montreal, Memorial University of Newfoundland, Ryerson University, University of British Columbia, and University of Calgary. We would also like to thank our partners again RECODE, Skoll Centre for Social Entrepreneurship, and ATB Financial for making this possible.
The next steps for MRU and SFU is moving on to the Global Challenge Finals in Oxford, England, where 22 teams from around the world will compete for the prestigious international prize. Good luck!!