"I shall be miserable if I have not an excellent library." – Jane Austen in Pride and Prejudice
What is the first book you ever loved and learned from? Does a wave of happy nostalgia flow across your body at that memory? Books have a profound way to inspire and affect someone unlike any other form of learning material and many of us take that for granted. The non-profit social enterprise First Book understands that many children in impoverished areas around the world do not have access to quality books and education and has made it their mission to provide new books, learning materials, and other essentials to children in need. Since their founding in 1992, First Book has distributed more than 175 million books and educational resources to programs and schools serving children from low-income families.
Not only has First Book grown, it has always been on the lookout for new ways to serve its mission as new information comes in and circumstances change. According to a press release in 2019, First Book surveyed member educators and:
"…more than 90 percent of respondents said they needed age-appropriate, relevant books and resources to help address the top social issues facing their students, including the effects of poverty and racism."
Shortly after, First Book released two lists called "First Book Title Raves" and "The First Book Bestseller List", which include books that reflect diversity of race, ethnicity, religion, family structure, neighborhoods, and more. They have now comprised the largest global collection of inclusive children's and young adult books curated for educators serving low-income communities. First Book has made it clear that children want to see themselves in storytelling and the importance of it for education.
One example of a book that resonates with children is a novel called 'Like Vanessa' written by Tami Charles, which is about Vanessa Martin's real-life reality of living with a family in public housing where she struggles with an incarcerated mother she barely remembers, a grandfather dealing with addiction and her own battle with self-confidence.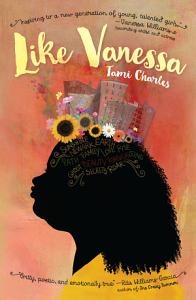 A testimonial from educator Lisa M. in the 2018 impact report stated:
"My students are excited to read 'Like Vanessa' in general, but one student told me, 'This book is about ME!' Everything about it felt personal and relatable, and as an educator, that is gold! This is especially true when your students are children of color who so rarely see themselves reflected in media. Thank you, First Book, for giving my students books where they are seen, heard and celebrated." – Lisa M.
Unfortunately, the COVID-19 pandemic has brought a wave of changes and extra challenges for many communities and once again First Book rose to the occasion. First Book has dedicated 7 million free books to support educators of children in need who do not have internet access or a home library to keep learning because of school closures.
First Book has also made the following items available:
To contribute to this effort, please visit www.firstbook.org/cv.
According to a recent press release, more than 8 million books are ready to be shipped along with eBooks, learning toys and digital products and 1.3 million books and 2 million digital resources have already been delivered to children in need. President, CEO, and Co-Founder of First Book, Kyle Zimmer says:
"We would not be in a position to make such a powerful impact on children in need without the support of these amazing partners. These books are so meaningful. They super-charge learning for kids in need, who are particularly vulnerable right now—when schools closed, these kids lost a place that was not only providing education, but so many different forms of critical support. These beautiful new books make it possible to provide tremendous support for kids who need it. Not a day goes by that we aren't grateful to our publishers."
First Book's financial model and its commitment to social sector collaboration, impact, and leadership in social enterprise has been widely recognized: https://firstbook.org/about/honors-awards/