Founded in Kamloops, BC, Friendly Composting is a weekly organic waste pick up and bin cleaning service for local residents and businesses. They provide simple and accessible composting solutions by supplying clean bins each week and ensuring all collected compostables are properly processed into nutrient-rich soil. The Friendly Composting Community has diverted nearly 1 million pounds of food waste from the landfill since March 2020, which has avoided greenhouse gas emissions and created nutrient rich soil. Friendly has provided composting solutions for over 1100 households and 30 businesses in the Kamloops and surrounding areas.
Not only was Friendly the Audience Vote Recipient for our NU Board awards https://tricofoundation.ca/nunationalawards2022/, they also were the recipient of the Social Shifters Global Innovation Challenge in 2021!
We had the chance to catch up with Co-Founders Katie Forsyth and Claire McLoughlin on their exciting journey. Katie explains what they have been up to:
"One of our major updates is that we made the necessary decision to discontinue our food delivery program. Though we loved the support we created for other local small businesses, the partnerships we've built, and the positive impact we created, the program was not generating a profit and was not sustainable on its own. Instead, we made the conscious decision to redirect all of our time, energy, and funds towards growing our commercial waste diversion programs, ultimately servicing larger food waste producers such as restaurants, apartments, city events, schools, etc. As a result, we hope to have a greater environmental impact. Our commercial program revenue stream will also not be threatened by the municipality's curbside organics program for detached single family homes, so it was a necessary pivot for our programs to remain sustainable."
Katie explains that their challenges can be boiled down into two words: cash flow!
"In the short term, losing our food program and investing into our commercial operations (purchasing larger bins, marketing, etc). has resulted in tighter daily cash flow. It has made it more difficult to balance taking care of ourselves and our people and generating profit, while focusing on our purpose. Additionally, we are providing a service that is typically offered publically by municipalities and factored into taxes, so for small businesses who are already struggling, it's a challenge to allocate funds towards green initiatives, making our sales process quite lengthy."
Claire says that they have learned to pace themselves and say no to opportunities:
"There is sooooo much opportunity to do good in the community so it's really easy to continuously say 'yes' and spread ourselves thin. By narrowing focus, we can create sustainable, long term impact in our community. OUR TEAM IS THE BEST!!!!! So much gratitude for them – Friendly wouldn't be where it is without them."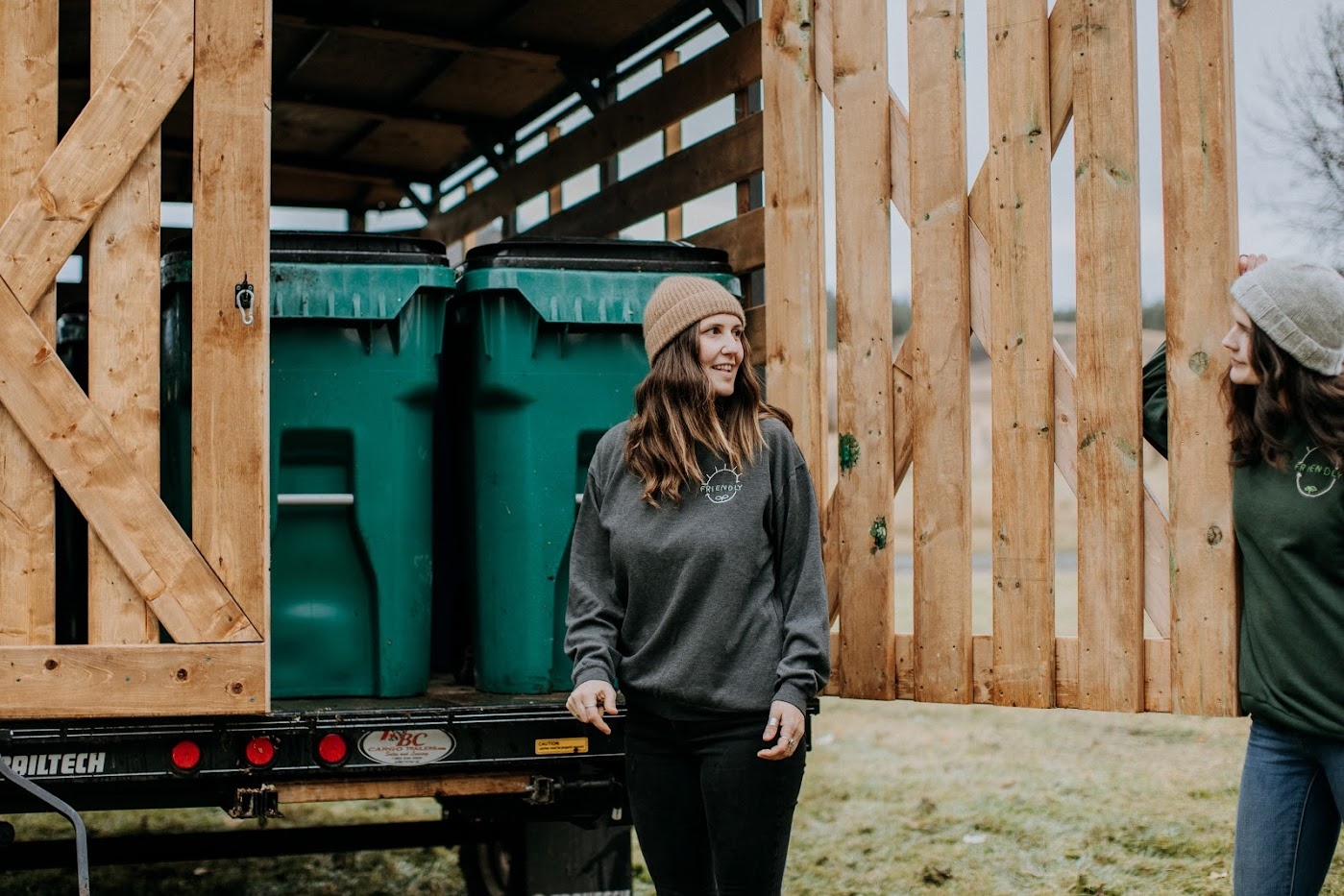 Katie echoes Claire's sentiments:
"We've learned that less is more. That we will only meet our goals by slowing down and taking the time to define them and narrow in our focus, in order to achieve them. We learned how valuable our team members are, how much they believe in our vision, want to see our company succeed, and that we can lean on them for support."
Katie expresses their next steps:
"We are working on writing policy briefs and presentations to take to our local city council, surrounding municipalities, and the school district, forming partnerships to secure larger commercial contracts. We are investing in our educational materials and digital marketing campaigns to create awareness about our services. We are redefining our team's roles and responsibilities to ensure that all activities are connected back to our mission goals and ultimately, generating revenue."
Claire says:
"We're really excited to develop improved impact measurement systems and focus on creating longevity of our impact. It's exciting to see our impact on a week to week basis but ensuring our impact will continue week to week for a LONG time is a key focus for right now."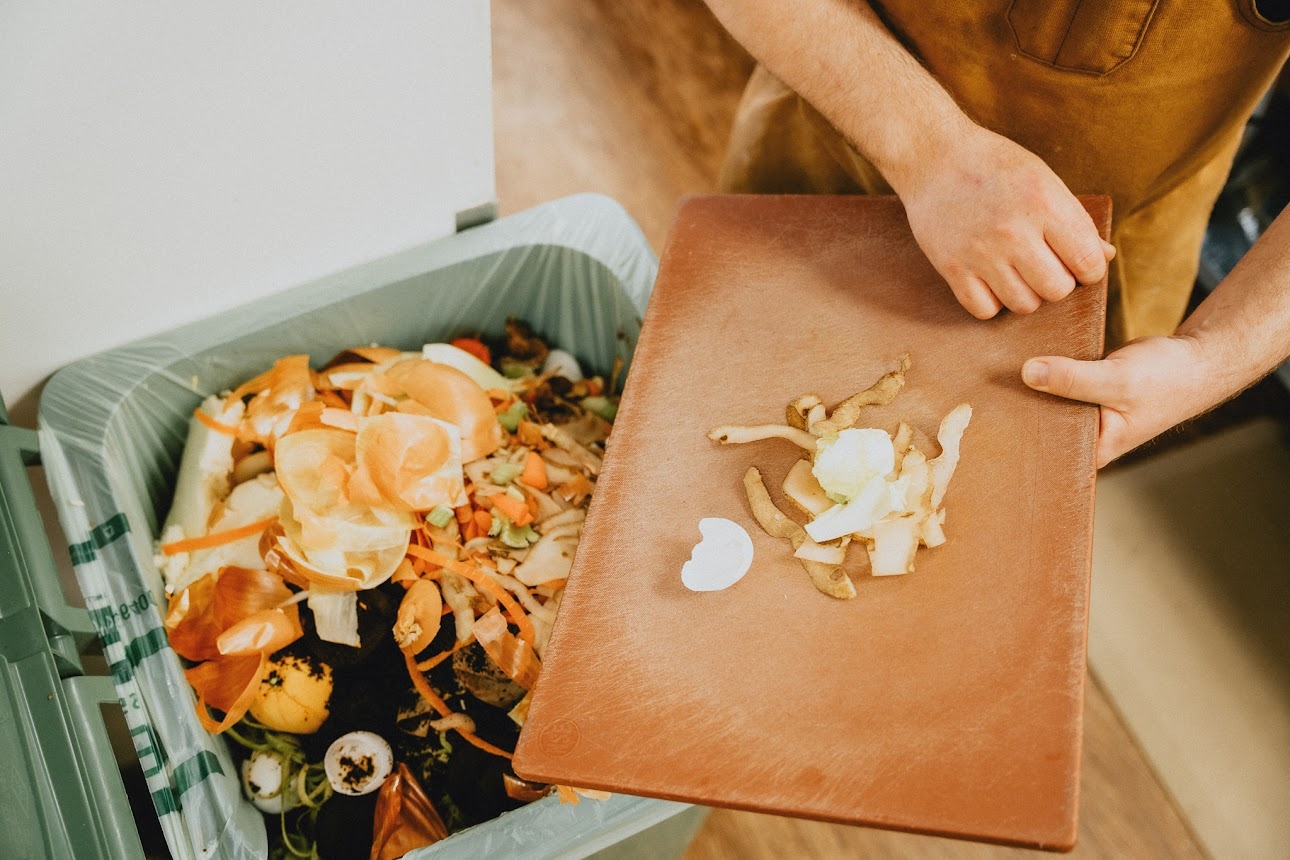 Friendly Composting is such an inspiration for fellow social entrepreneurs. Claire concludes:
 "Social entrepreneurship has been incredibly rewarding and fulfilling. It comes with unique challenges that not all business owners encounter and we're very lucky to have a support system that understands those challenges and is eager to help us overcome them."