[box] The Investment Readiness Program was created by the Government of Canada. As the Government of Canada explains: "The Investment Readiness Program (IRP) is a 2-year $50 million pilot program designed to help advance Social Innovation and Social Finance (SI/SF) in Canada by building on existing supports to help catalyze community-led solutions to persistent social and environmental challenges. The pilot will provide a learning opportunity to inform future direction on how best to support and mobilize the social finance sector." Learn more here.
This blog series by the Trico Charitable Foundation spotlights successful grant recipients of the first IRP round of grants who reside in Alberta or have received the Social EnterPrize. The goal of this series is to help inspire, inform, and nurture the ability of social entrepreneurship to close the gaps in Canadian society.  [/box]
Founded in Edmonton, Alberta, Iron & Earth is a worker-led non-profit with a mission to empower fossil fuel industry and Indigenous workers to build and implement climate solutions. With the decline of global oil and their mission in mind, Iron & Earth made the decision to develop a social enterprise training company, as a sort of sister organization. Adam Lynes-Ford, Iron & Earth's Director of Innovation and Energy Policy explains:
"We were in the process of investigating all kinds of investment options for our social enterprise when we came across the Investment Readiness Program (IRP). It was really exciting to see an opportunity to access non-repayable granting to do exactly what we were in the midst of doing, which is, accessing real expertise and advice to build a strong foundation for a solid social enterprise."
Note: Since this interview, Adam has taken a new role, however, will still be involved with Iron & Earth Industries in a volunteer co-founder role.
Iron & Earth realized there was a real need to provide training in renewable energy for workers in rural and remote communities, paired with career support to help trainees build a renewable economy. Adam says:
"We applied for the IRP funding to do a market analysis and understanding. Looking at things such as where is the growth in climate careers going over the next 5-10 years? Also, looking at accessing support with business planning and marketing and sales strategies. It's a great bundle of support that we are getting through the program to access expertise."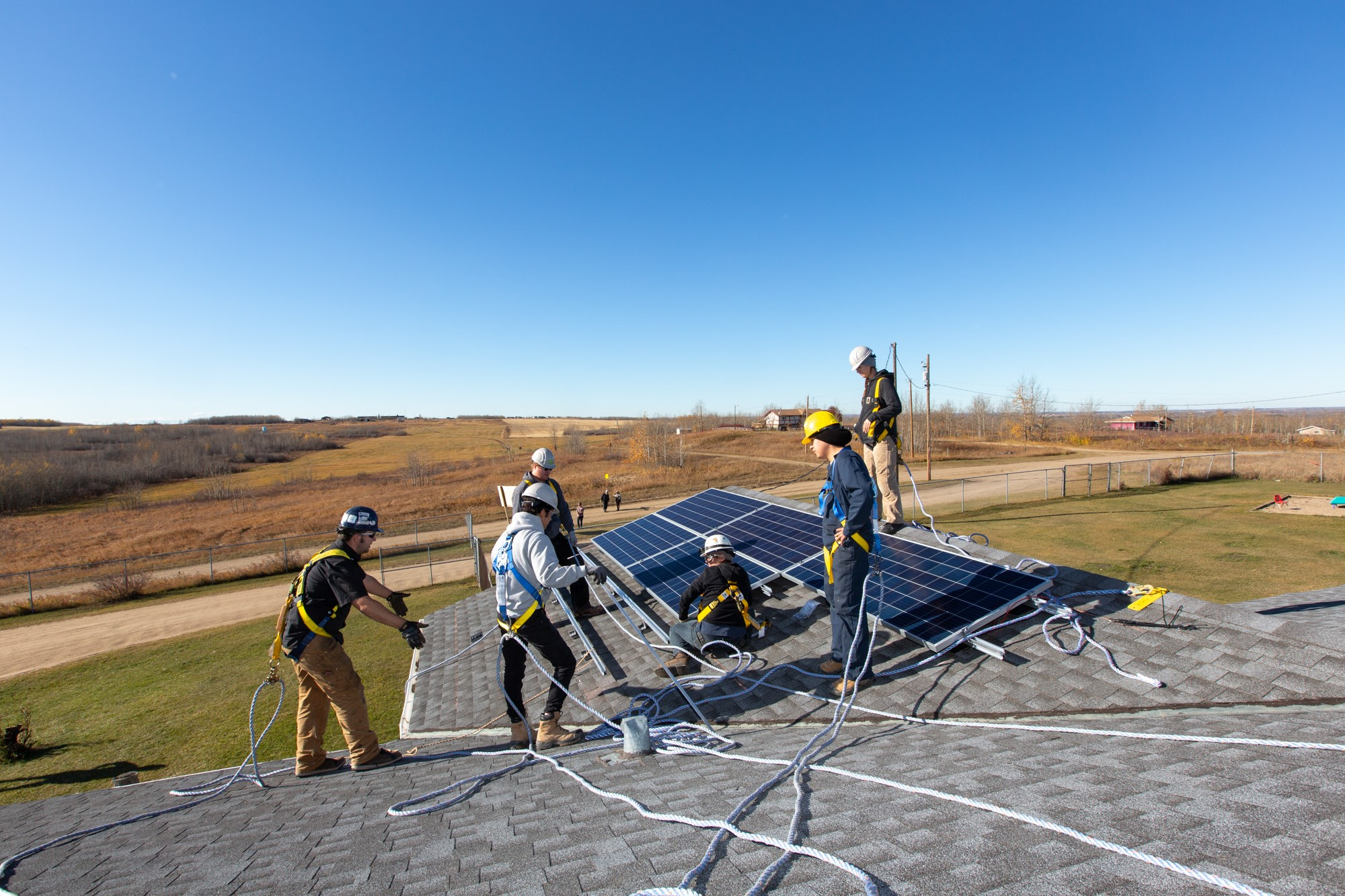 Adam describes that their goal really is to get them investment ready:
"It is a great opportunity for our team members within Iron & Earth to build up our own internal capacity around maintaining the strong foundation of market analysis and business development. We want to emerge with an even stronger team to launch this social enterprise via the learning that we're already undergoing with the expert providers. Ultimately, the main goal is to have a really solid foundation from which to start operating the social enterprise."
Looking to the future, Iron & Earth's main foundational idea is to support a prosperous transition to a net-zero emissions economy by 2050. Adam and the team want to provide a bridge into helping build a new economy through training programs and career support. Adam says in the transformation to a net-zero economy it is crucial that Indigenous communities and workers play a leading role, in a way that respects their fundamental rights:
"We've built our existing training programs, in collaboration with Indigenous subject matter experts and elders, so that they are crafted to meet the needs of Indigenous community members."