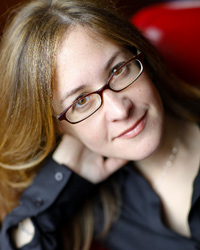 By Elisa Birnbaum, editor-in-chief, SEE Change Magazine
At this year's Social Enterprise World Forum, four impressive organizations were recognized with Trico Charitable Foundation's Social EnterPrize awards, celebrating their leadership and excellence in social entrepreneurship.
Each of the winners—chosen from over 40 applicants—pursue a unique approach to solving society's challenges and offer inspired examples of successful models to follow.
Take Jump Math, the Gold winner in the over-$1million category.  With a mission of encouraging an understanding and love of math in students and educators, the social enterprise provides math resources for teachers, tutors and students and distributes programs to schools and tutoring organizations with a special concern for those that serve low-income and at-risk students.
Thanks to increased demand and healthy sales of program materials and training as well as grants and donations, JUMP Math is ever-growing. In fact, the number of students using its program has increased at a compound annual growth rate of over 40% over the past three years.
The Value of Recognition
That their innovative programs resulted in this coveted prize—one of many accolades for this organization—had special resonance beyond its financial recompense. "The award itself is the most critical part from our perspective," says director of development Ewart Newton, explaining how external validation and increased awareness for their work are gifts not to be underestimated.
The recognition is especially timely as JUMP Math is in the process of expanding their funding horizons, Newton tells me. Historically, the organization was funded from philanthropic sources and some earned income through selling their programs to schools. But they're currently looking at significant growth over the next five years in Canada and the US thanks to a new opportunity, for which traditional sources will be insufficient.
And so begins the search for impact investors. "The transition from people thinking we're a traditional charity to a social enterprise with an underlying business model and the ultimate capacity to repay impact investors is quite a significant step for us," explains Newton, adding that outdated models that can be inflexible and/or risk-resistant are the biggest barriers for those working in the sector.
But Newton is optimistic. He believes their new focus will enable the organization to become self-sufficient in three to four years. "In five years, JUMP Math will be regarded as an important contributor to fixing problems of innumeracy," he adds with confidence. "JUMP will have catalyzed the widespread belief that every child can learn math and love it!
Growth Potential
The win aside, Newton admits it was the potential to make important connections that was his primary objective in coming to SEWF. Having spoken to some great folks, he's happy he made the trip.
Another winner who looked to the award to help leverage upcoming plans was Toronto-based TurnAround Couriers.  The social purpose business is dedicated to helping at-risk youth overcome social and economic obstacles by providing them with the experience, confidence and financial means to get ahead.  In business since 2002, the courier service— which only hires at-risk youth as employees— also partners with a local Toronto based college to ensure their couriers continue their studies.
"I feel proud and even more tickled that we happen to be the first for-profit winner," offers founder and president Richard Derham of the silver award his venture won in the under $1 million category. "To get that sort of recognition is lovely. We can use it in our marketing to resonate a little bit and to help us win more business."
That the award was on a national platform, beyond the confines of downtown Toronto, was a plus on the awareness front. The cash winnings helped too. And, with plans for growth in place, the award is even more appreciated. Though tight-lipped on details, Derham explains, "We will be much bigger in Toronto, we will possibly have a presence in other cities too and we will certainly have diversified our service offering in Toronto."
With expansion in the works, it's no surprise that Durham was keen to meet and learn from fellow attendees at SEWF. Hearing about the strategies other organizations use to sell services or products was one of objectives underlying this social entrepreneur's journey.
Lessons Learned
Shared learnings was an important priority for Arthur Mills too, in coming to SEWF. The Director of Housing at YWCA Metro Vancouver—who accepted the silver award in the over $1million category on behalf of the organization—added that sometimes it's just nice to meet others in your space, especially when you're so used to working in the trenches. "While I'm aware that there are social enterprises out there, sometimes you do your work and don't look up," he explains of the common work hazards. "It's very uplifting to see people come up with ideas that help and still generate bottom lines; there are many lessons here."
The YWCA Metro Vancouver Hotel is a self-sustaining enterprise that provides affordable accommodations for travelers and generates revenue that directly funds YWCA programs and services. Catering to visitors in downtown Vancouver, the hotel also offers emergency and transitional accommodation to individuals in need. In the past year alone, it provided approximately 56% of their room nights as subsidized accommodation to women in crisis, families in transition, students, seniors and refugees.
The award's cash winnings will be put toward funding the YWCA's services and programs. "Not all our programs are funded," says Mills, explaining they generate revenues through the hotel, thrift shop and exercise program. Funds aside, Mills says the award recognizes their hotel initiative as a good decision, an important sense of validation to be sure. It also helps promote the whole idea of social enterprise, says Mills, the idea that, "you can do some good things and still operate in a profitable business."
Validation seems to have been a common theme with all the Social EnterPrize victors.  Just ask Doug Aason, director of recruitment and development at EMBERS Staffing Solutions and winner of the gold award in the under $1 million category.
Canada's only non-profit temporary staffing business with a mission of providing employment opportunities for people facing employment barriers, the organization's profits generates a source of income that is reinvested into EMBERS employment programs which assists and trains their workers. In addition to recruiting workers from the general population, the organization has a social mandate to assist disadvantaged job seekers, including First Nations people, newcomers to Vancouver, and transitional workers leaving recovery programs and correctional facilities.
"Winning the prize was a huge recognition of the great work we've been able to do through our partnerships in providing work to 40-60 people daily and the impact its having on our communities, " explains Aason of the organization that has employed over 1100 people in the past 4-plus years, with more than 50% transitioning into full-time work.
Increased Awareness
"The award has given us an international profile that is creating interest in expanding our temporary staffing social enterprise model to other regions," he adds. It's a profile that can certainly come in handy as they look to scale up. "We're currently developing new partnerships that will help us introduce a new certified skills training component aimed to advance our employees' careers," says Aason who adds one of his biggest takeaways from SEWF was seeing different levels of government in Canada finally realizing the value and impact of social enterprise and looking for ways to support it.
The social enterprise is also looking to expand beyond construction into other industry sectors, such as office work, to create a wider selection of job placement options for people looking to re-enter the workforce. It's exciting times for the organization.
And the excitement only grew stronger for them and their fellow winners when they walked out of SEWF clutching their cherished award. A sense of deep appreciation for the organizers among all who won was palpable too. As Arthur Mills said of their shared experience, "It was unbelievable for Trico to do something like that, bring a spotlight on such a valuable way of doing business and making such a contribution to society; good on them for doing that."
SEE Change Magazine

SEE Change Magazine is Canada's publication on social entrepreneurship with a mission to inform, educate, and inspire social entrepreneurs and anyone who wants to see change in our world. Much like other entrepreneurial endeavours, it was created in response to a need – the need to spread the word about an important business movement that has the capacity to change the way we live and engage with our communities. For more info and to subscribe: http://www.seechangemagazine.com

SEE Change Magazine is also a SEWF 2013 media partner.

More About SEWF

The Trico Charitable Foundation was honoured to host SEWF 2013. It made history in a number of ways – it was a first for Canada and attracted a record number of speakers and attendees (1,000 individuals from more than 30 countries and over 100 speakers from 20 countries) – but we are most proud of the quality of the discussions on Skills Building, Social Finance, Indigenous Social Enterprise, Collaboration, Policy and Research, and Social Innovation.

We would like to thank the following partners for making SEWF 2013 possible:

Organizing Partners:

Social Enterprise Council of Canada

Lead Sponsors:

Presenting Partners:

Supporting Partners:

Friends of SEWF:

Media Partners:

Each year SEWF gives a different host country an incredible opportunity to celebrate and nurture its own social enterprise movement. The inaugural SEWF met in Edinburgh, Scotland. Since then it has been to Melbourne, Australia; San Francisco, U.S.A; Johannesburg, Africa; and Rio de Janeiro, Brazil. Learn more about SEWF's history here.

SEWF 2014 will be held in Seoul, Korea from October 12-16. Hosted by the Work Together Foundation, this significant international gathering has an ambitious agenda: "Social Change through Social Enterprise". Learn more here.