Calgary staple and award-winning social enterprise Women in Need Society (WINS) announced on June 9th, 2020 the launch of their new and innovative More store. Since the last time we caught up with Karen Ramchuk, WINS's Executive Director, and Patti Brewin, Fund Development Manager in 2018 (https://tricofoundation.ca/social-enterprise-adapts-to-market-shifts/), WINS has continued to "think differently" when trying to operate in a difficult economy and navigate the COVID-19 pandemic. WINS had to reimagine how they combined the social and entrepreneurial so they could enhance their revenue and social impact at the same time – the 'secret sauce' of social entrepreneurship. Of course, the enhanced revenue, in turn, goes to fund even more social impact.
The More store was a process in the works long before COVID-19 hit and the pandemic delayed their original launch day. Patti explains:
"We wanted to launch for Earth Day because this is a recognition that we do more with the donations we receive."
Karen describes how WINS was looking at existing opportunities within the organization to grow revenue at their stores or find alternative revenue streams within their charitable purposes. They found that the niche between selling good quality items and sending items out for recycling was a great opportunity to focus on.
Once someone donates clothes, the WINS staff checks the items and grades the quality of whether the item will be sent to stores or will go to recycling. Now, products get a chance to be sold at bulk pricing in bins at the More store before going to recycling if not sold.
Their biggest problem was the More store could not be at their existing locations. Karen explains it really needed to be its own location and ideally connected to their donation centre to keep costs as low as can be. Karen says:
"The funding for the move and the launch of the More store came from the Trico Foundation and the Calgary Foundation. WINS could not be more grateful for their support in WINS expansion."
The More store is taking extra precautions in regards to the PPE (personal protective equipment consisting of gowns, gloves, masks, eye protection, facial protection) requirements as having the merchandise in bins is a much more tactile shopping experience. Shoppers and staff are required to wear masks at the More store. All donations received at the WINS Donation Centre are being quarantined for 72 hours before being sorted. The five other WINS family thrift stores are open; however, are not accepting donations at this time. The More store is located at: Unit 141, 7007 – 54 Street SE.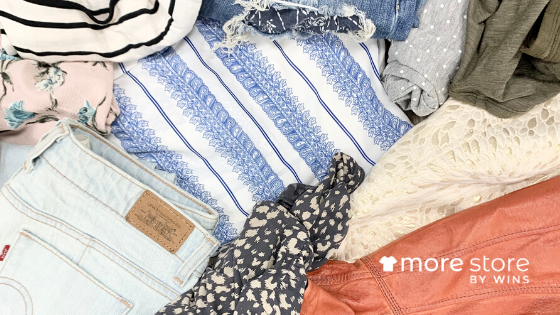 Karen says that WINS felt blessed with their partnerships throughout COVID-19. TJX (Winners, Marshalls, and Home Sense) supplied over 50 pallets of food from their stores and WINS was able to share it with the Calgary Food Bank and other emergency shelters in Calgary. WINS also provided bags of food items to all of their clients. Ikea donated household items to WINS Free Goods program, providing 200 kits worth of products such as mattresses, dinnerware, gadgets, towels, and more to low-income Calgarians or Calgarians impacted by COVID-19. Karen is also extremely proud of keeping all family resources centres running virtually and by telephone and of keeping their Free Goods program sustained by using a curbside pick-up model.
Although the future may be uncertain, WINS wants to be at the forefront of helping people. They always on the lookout for new partnership ideas and are constantly making sure they are as safe as can be for their clients, employees, and customers.
Just announced!! WINS Launches a New Way to Thrift: Twice New. Click here to learn more.