Namada was created through the collective wisdom of a Social Impact Working Group consisting of the Government of Alberta, AB Seed, and several key community partners, including the Social Enterprise Fund, Trico Foundation, and United Way Calgary.  The group committed to lengthy, ongoing conversations over the course of a year to really dig deep into how they might better support and understand the social enterprise ecosystem in Alberta.
The group identified two key areas they wanted to address: 1) be able to understand the relationships in the ecosystem, and how they work together, and 2) support social enterprises to better navigate the ecosystem and find the most relevant and meaningful supports for them. The ongoing conversation, and these two areas, led the working group to the idea of Namada, an online resource navigation tool.
We had the chance to connect with Victoria Ross, Ecosystem Capacity Builder of AB Seed to fill us in on the details:
"The main purpose of Namada is to bring together all of the different resources, programs, mentorship, funding, and anything and everything in between that would be helpful to a social entrepreneur or a student that is aspiring to get into social entrepreneurship.

The list of programs would also be useful to for non-profits and charities and anyone trying to move forward into social impact. We wanted to put all the resources that were available out in the Alberta ecosystem into one easy spot that was easily digestible and easy to navigate so that you're not spending hours and hours and hours trying to find all of these programs."
Victoria advises to click on Supports and Resources and then going to "Browse All" as they are constantly adding resources and fixing some of the kinks in the filter criteria. When it is up and running at full capacity, you'll be able to look for specific types of supports and resources. Victoria says:
"If you're looking for financing or grant funding, you should check off that box and then you can further filter it based on the corporate structure of your business, whether you're a non-profit, for profit, or a charity. You can also filter it further down by your business stage. If you're a start-up, you can filter it by your entrepreneurial experience."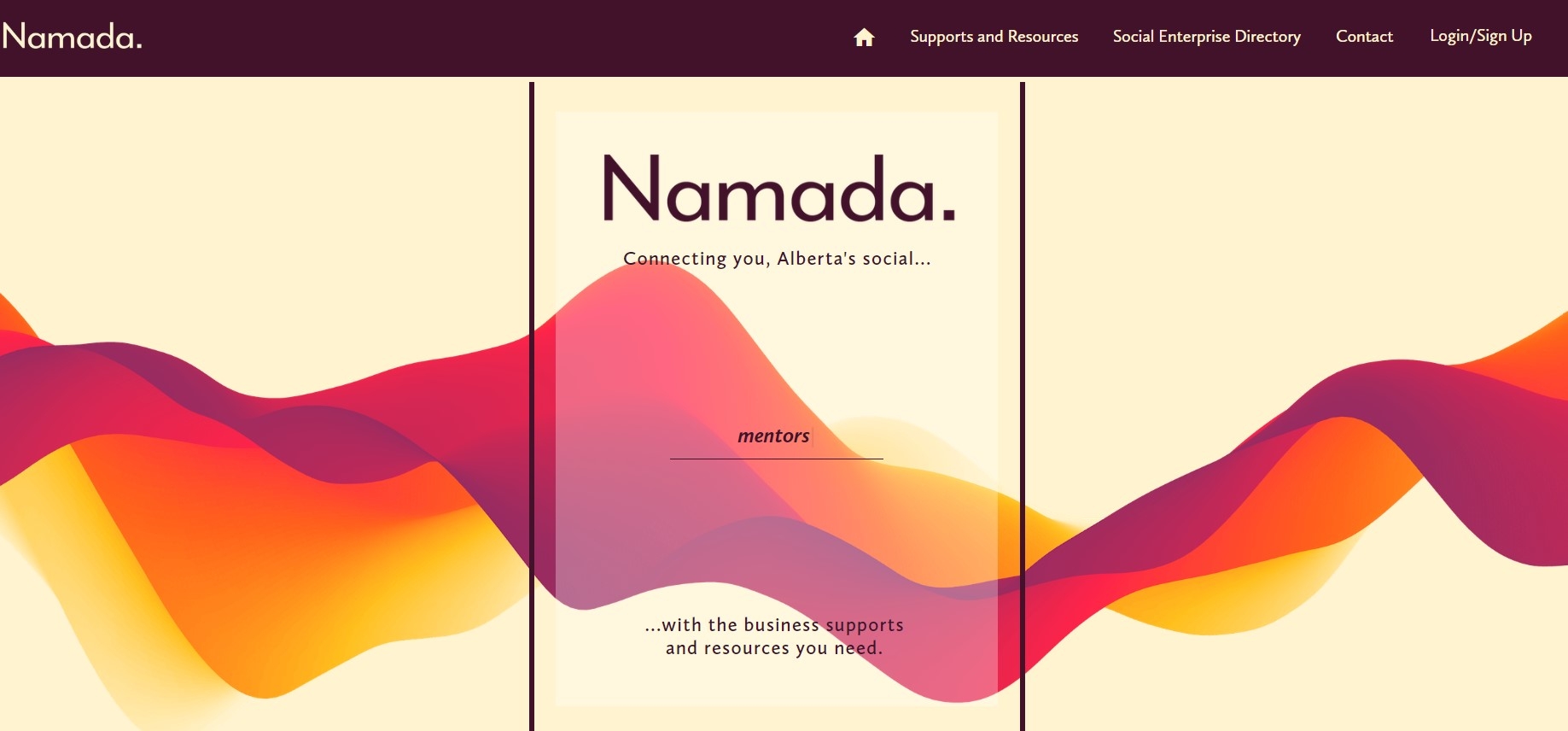 The name Namada derived from three words: navigate, map, and database. Victoria says:
"We wanted to focus on a feeling of relief a user would experience when finding the tool and being able to identify meaningful resources that would support their business. Finding a step in the journey that made life easier, not harder. We guided participants through exercises around word association and brainstorming of different types of brands, names, and listing words. We took the results from these naming parties and did a word association exercise with staff. Due diligence was performed to ensure it wasn't in conflict of existing entities."
Victoria explains that the end goal of Namada is to be a social entrepreneur's one stop shop:
"We have goals of future features and capabilities to be able to upload your profile of your social enterprise or your charity. For example, if your social enterprise is hiring for people, you'll be able to post an upcoming position. Also, if you're looking for investment, you will be able to upload a pitch deck onto a news feed. We've also discussed we can have an investor board where you can see if someone specifically in the Alberta region wants to invest in a social enterprise."
Disclaimer: Namada is still adding resources to the site and working out the bugs in the filtering tool. At this point in time, use "Browse All" under Supports and Resources tab. If you are a social enterprise or aspiring social enterprise, please contact [email protected] and ask for Victoria or Gary, for you to be added to Namada's Social Enterprise Directory.