[box] The What's Next YYC prizes celebrate excellence in middle-stage ventures that are established but are still developing their social enterprise. These prizes are unique in that a key qualification is applicants must have already won an award or completed a support program such as an incubator or accelerator. As such, not only does What's Next YYC celebrate best practices in middle-stage social enterprises, it identifies and celebrates the ecosystem supporting these ventures. Two jury prizes and one audience choice prize (known as the POPular Choice), each worth $25,000, were handed out. The 2021 recipients were aGRO Systems Inc., Colouring It Forward, and ENABLE.
This blog series by the Trico Charitable Foundation spotlights recipients of three types of awards presented at the November 2021 Pivot on Purpose Summit (POP), delivered in collaboration with The Trico Foundation Social Entrepreneurship Centre at the Haskayne School of Business. Social enterprises across the early, middle and advanced stages were celebrated at POP. The goal of this series is to help inspire, inform, and nurture the ability of social entrepreneurship to close the gaps in Canadian society. [/box]
What's Next YYC (WNYYC) 2021 $25,000 POPular Choice recipient ENABLE brings people together, creating meaningful matches between families with disability and reliable, vetted support workers. It is their belief that the right fit makes all the difference, and by matching people based on shared interests, it fosters strong, long-lasting connections. ENABLE has formed over 100 connections and to date, their support workers have provided nearly 20,000 hours of support.
Sue Crawford, Co-Founder and Executive Director of ENABLE explains that their mission is to get more people out into the community having more fun. Sue is an innovator, advocate and ally to countless clients and families affected by chronic illness and disability. When she is not building ENABLE, Sue works as a faculty nursing instructor at Bow Valley College and as a registered nurse at the Alberta Children's Hospital.
Sue says there have been big changes for ENABLE since the WNYYC awards in November 2021:
"Our communities have also been opening up and people are feeling more and more comfortable pursuing social and leisure activities. With this, our services have been in record demand– setting records for number of family registrations and the number of support worker applications."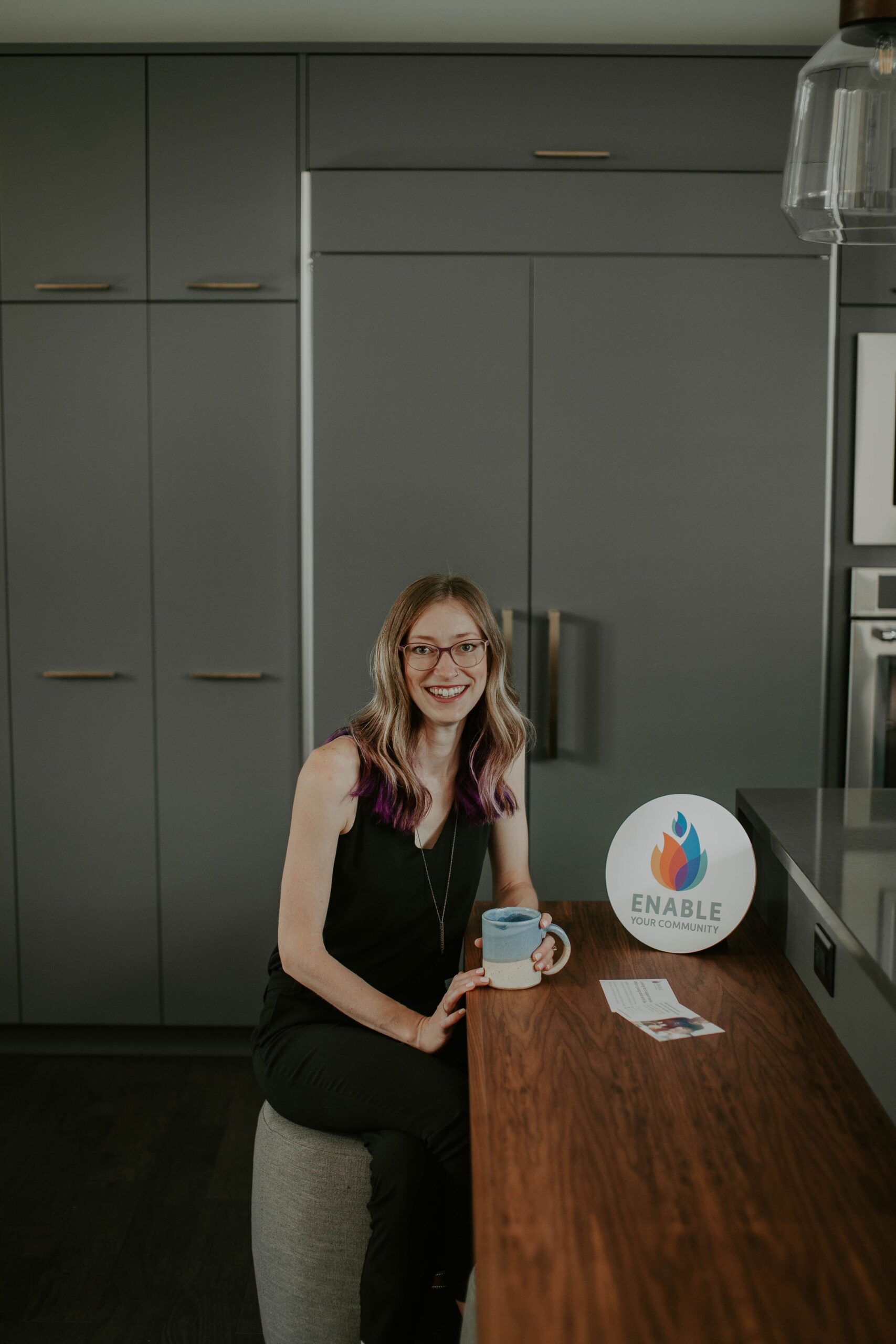 The WNYYC award money really helped ENABLE cope with those changes:
"Thanks to the award money, we have made the exciting decision to bring on two internal staff members who will support us with onboarding new support workers and creating meaningful matches. We also hired a business coach who has been invaluable in navigating our huge influx of family and support worker applications, creating more efficient and effective processes, positioning us to scale, and to add an additional revenue stream. We also enrolled in courses on branding and copywriting in our pursuit of tailoring our messaging so we can connect more people and get them out in the community having more fun."
Not unlike others, the pandemic has weighed hard on ENABLE:
"Our workers want to obtain gainful employment and our families continue to benefit from support, and everyone wants to stay healthy and safe. While we look to meet the needs of our two-sided market, we are also personally going through the pandemic, too. As we navigate the pandemic, personally and as a business, burnout is real. Through these challenges, we have also uncovered gems.

While our business was not expanding late last year and early this year, we could turn our focus to creating robust processes and continuing to work toward a smooth customer experience. An example of a gem we uncovered was when we lowered our minimum support worker age to 17 years to increase the number of support worker applications. What a GREAT decision that was! We have reliable, energetic, and excited young support workers who are ready to have fun with their clients."
Sue also sees these challenging times as an opportunity to learn:
"We reached out to our target market– collecting survey responses, conducting interviews, and sifting through all our historic data to analyze how we can best serve. Through this exercise, we have a very clear vision for where we have to go and a path by which we want to get there. We strive to learn and be agile in integrating these and any forthcoming learning to best serve our community. Mentorship and coaching also continue to be key to our success as we look to improve and expand our offering."
As part of WNYYC's mandate to identify and celebrate the ecosystem supporting Calgary's amazing local social enterprises, here is a list of the supports that have helped ENABLE: The Summer Incubator Program, University of Calgary; RBC Social Enterprise Accelerator; 150 Startups, Bow Valley College; Mentorship Program, Chic Geek, Hunter Centre for Entrepreneurship and Innovation, and All of Her Business.
About Pivot on Purpose Summit (POP):
The Pivot on Purpose Summit (POP) is the next step in a movement to reimagine the power of business models to solve social problems. POP is held in collaboration with the Trico Foundation Social Entrepreneurship Centre at the Haskayne School of Business, the Trico Charitable Foundation (TCF) and the NU Community Board. Established in 2008, TCF seeks to close gaps in society by provoking innovation and building capacity in social entrepreneurship. Created by TCF, the NU Community Board is facilitated by young Canadian leaders for young Canadian leaders. Through the use of grants and awards, NU's goal is to support emerging social impact leaders in the work of closing gaps in society.
The Trico Foundation Social Entrepreneurship Centre at the Haskayne School of Business was established through the generous support of Wayne and Eleanor Chiu's family foundation, the Trico Charitable Foundation.
Stay tuned for POP 2023!