This article was originally published on May 28, 2015 on the ENP Canada website. It has been cross-posted with permission from the author Michelle Strutzenberger, Newsroom Chair, Axiom News.
After more than 10 years of existing to employ at-risk youth as bicycle couriers, TurnAround Couriers in Toronto is venturing down a new path this week. It's adding same-day restaurant delivery services to its current package delivery services.
The shift is driven by both internal need and external market forces.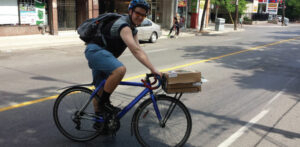 As a for-profit social enterprise, TurnAround Couriers has no parent organization and no grant funding options to fall back on in tough economic times. It's either win business, open a line of credit or have founder and president Richard Derham choose to not take a salary one month.
TurnAround is experiencing the effects of a dwindling same-day package delivery industry, but has had a growing number of inquiries from restaurants about possibly couriering food.
Though it's done some food couriering in the past, the social enterprise is now making the large operational shifts required to make this a core service.
The changes include extending its operating hours into the evening and on weekends, hiring additional dispatchers for those times and configuring the bike courier team to do the additional delivery work. The courier bikes have also been re-outfitted with large-sized front baskets to hold insulated food boxes.
Richard is very hopeful about the possibilities in this shift as it's expected to contribute to TurnAround's financialsustainability and even growth as well as enable it to employ more at-risk youth.
A case study conducted on TurnAround as part of its win in the 2013 Social EnterPrize competition highlights the social enterprise's impact on youth.
Through partnerships with a number of Toronto shelters and youth support agencies, TurnAround has been able to hire more than 170 youth over its 10-plus years of existence.
In 2011, the social enterprise was able to further its commitment to its social mission by providing its hires with the opportunity to pursue their educational aspirations during their tenure at the company. Through a partnership with George Brown College, couriers, dispatchers and office staff can attend class at no additional charge whilst remaining at the company.
Though TurnAround's profitability has been "so-so" historically, its revenue has increased year on year, with a few exceptions.
Looking ahead, Richard is committed to making this new service offering work.
"I'm not going into (the food delivery) thinking, 'If it doesn't work oh well that will be a shame.' I'm committed to it and really think it should work, and if it doesn't then shame on us because I think the market is there for it to work," he
says.
Success in this area is integral to the survival and thriving of the social enterprise as a whole – and that's important to Richard, not just for the sake of the business and its social mission but the entire for-profit social enterprise sector. "I think there's a role to be played by for-profit social enterprises, as there is for non-profit social enterprises, and right now there are precious few for-profit social enterprises so I feel a slight duty to keep going so that we can be used as an example," Richard says.
"We're a small operation, but we're one that can survive and grow and become better known and hopefully inspire other people to adopt this model."
The Social EnterPrize case study was conducted by a research team from the Ted Rogers School of Management, Ryerson University. Click here to read the study.
The 2015 Social EnterPrize competition is currently underway. To learn more, click here.
Writer: Michelle Strutzenberger
Read the original article here.