This article was originally published on September 24, 2015 on the ENP Canada website. It has been cross-posted with permission from the author Michelle Strutzenberger, Newsroom Chair, Axiom News. The feature image for this article is from a Metro News article.
Though his words are few, the message is clear. When asked what energizes him most about his work at a Calgary social enterprise, the Vecova Bottle Depot, Shawn Sproule says it's the people that he works with.
That's a profound reflection, especially given that Shawn has been working with the Bottle Depot for 12 years, Monday to Saturday, 8:30 a.m. to 5 p.m. He also takes some Sunday shifts, he says.
Describing his workplace as energizing and fast-paced, Shawn brings a gift for accuracy as he works with a team of 20 to process the containers that come into the depot. Last year, the depot processed more than 15 million beverage containers.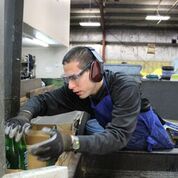 Amid all those dynamics, Shawn describes a work environment that is positive and mutually supportive. "Any time I need to ask anybody (for help), I can always turn to the people that I work with . . . and sometimes they will come to me and I'll help them," says Shawn.
His dream for his future with the social enterprise includes moving into a supervisory role.
As a non-profit, Vecova Centre for Disability Services and Research exists to create a society where persons with disabilities are integral and valued members. Among other initiatives, it operates five social enterprises that are intended to help realize that vision. The Bottle Depot is the oldest of these.
"One of our biggest assets is the strength of our experience," CEO Joan Lee says.
"This is apparent in the long-standing reputation of the Vecova Bottle Depot. It is Calgary's only non-profit depot, and is one of the city's very first examples of a social enterprise. For well over 30 years it has been a powerful illustration of a business that supports community and business engagement, and inclusive work practices."
Joan goes on to note that the Bottle Depot serves thousands of Calgarians, is partnered with some of Calgary's largest festivals and events, and helps schools and service groups raise funds through local bottle drives.
Statistics show that one in seven Albertans has a disability, and that number is growing. The employment rate of Canadians aged 25 to 64 with disabilities is 49 per cent compared with 79 per cent for Canadians without a disability.
Social enterprises such as those operated by Vecova offer a solution and example.
"Vecova's five social enterprises all provide opportunities to demonstrate our mission and generate sustainable revenue for our organization," Joan says.
"Our Bottle Depot, Bottle Pick-Up Service, Airport Baggage Cart Service and U of C Recycling Service provide meaningful employment for persons with disabilities.
"Our social enterprises, including our Recreation Centre, are all connectors to the community, serve a need in the community, increase Vecova's profile, and/or increase the profile of people with disabilities in society."
Vecova's story is especially noteworthy at this time given that Calgary Mayor Naheed Nenshi recently proclaimed October Disability Employment Awareness Month. To learn more, click here.
To learn more about Vecova, click here.
To learn more about social enterprise in Alberta, please check out Enterprising Non-Profits Alberta.
This article is part of an ENP-CA newsroom series on the experiences of front-line employees in employment social enterprises. An introductory story to the series can be found here.
To share a story about a work experience with an employment social enterprise, please contact secanada@enterprisingnonprofits.ca.
— More to Come
Writer: Michelle Strutzenberger
— See more at:
http://www.socialenterprisecanada.ca/en/newsroom/service.prt?svcid=enp_newsroom1&iddoc=420387&page=news Detail.tpt#sthash.kQK6cUHn.dpuf