What's Next YYC is a biennial award from the Trico Charitable Foundation and the newly formed Trico Foundation Social Entrepreneurship Centre at the Haskayne School of Business to celebrate the most exciting social entrepreneurs in the city. Because What's Next YYC only targets local social enterprises that have already won awards and/or successfully completed a local social enterprise support program, it not only helps social enterprises get to the next level, it also builds on and celebrates the work of social enterprise support system of Calgary and its surrounding area. What's Next YYC also seeks to help build Calgary as a social enterprise hub. This blog series provides an update on the journey of some of our finalists from the inaugural 2019 edition of What's Next YYC.
"We come from all walks of life, all cultures, belief systems, nations. We have distinct languages, spiritual beliefs, values and ways of life. However, we all walk on this great Mother Earth and breathe the same air. We need to communicate and learn about the past, heal the hurts together and support and respect each other going forward." –Diana Frost, Founder, Colouring It Forward
Among the 10 impressive What's Next YYC finalists who are using the power of business models to solve social problems is the Indigenous-run social enterprise Colouring It Forward. Colouring It Forward produces and sells colouring books and other products developed with Indigenous artists and elders to help to share (and preserve) the beautiful artwork and ancestral wisdom of our Indigenous peoples and promote reconciliation through the arts.
Founder of Colouring It Forward, Diana Frost is an Algonquin Métis, has an educational background as a chemical engineer, and is also an artist and a musician. Diana spent her teenage years in Western Africa, which was an early awakening to different cultures and the difficulties of living in a developing country.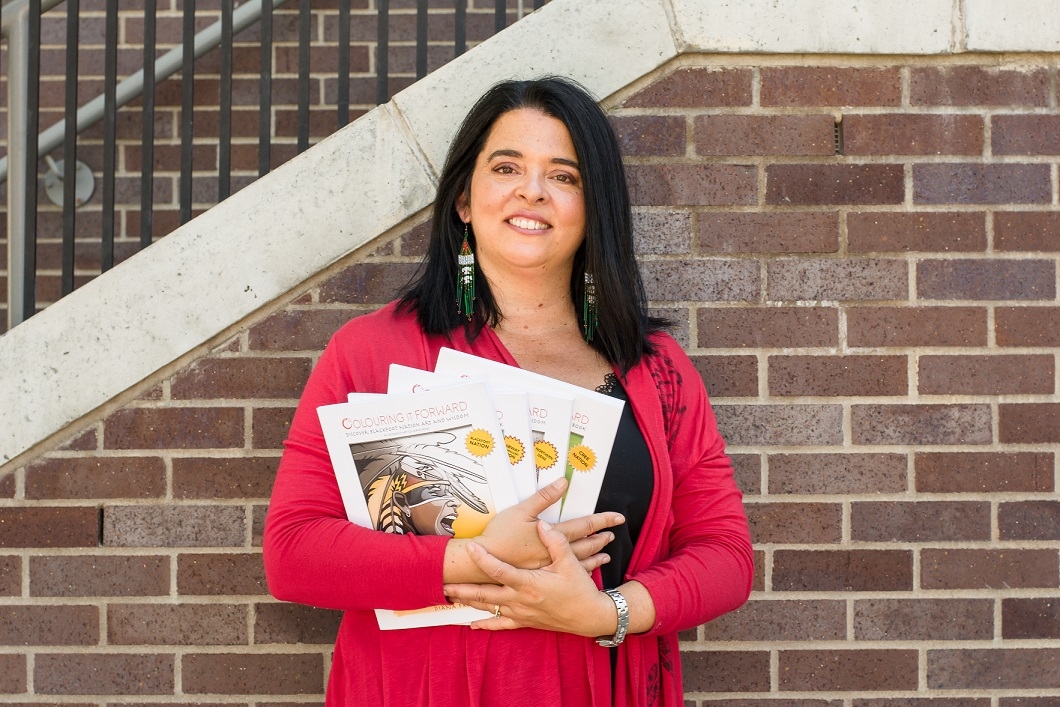 Drawing inspiration from these lessons about the importance and power of culture, the purpose of Colouring It Forward is to advance education on indigenous issues, art, language and culture through a grassroots approach. Colouring It Forward is much more than a colouring book. It is a gathering place for people of all ages to share their own stories and their art, and to build a community.
Diana explains what has kept Colouring It Forward busy since the What's Next YYC awards:
"I was selected by ATBX for their accelerator program in the Fall of 2019. It was a great program. Thanks to them I learned a lot about financial management, social media, branding and so much more. In January, I went to my first big buyer trade show in Toronto and was grateful to get 13 new store clients, most of which are located in Eastern Canada."
As with most organizations, Colouring It Forward had to adjust and pivot their game plan due to the COVID-19 pandemic. Diana says:
"We have developed a social media strategy and have been spending more time and energy developing our online following and our sales. Since the sales were very low, we focused on providing value by partnering with Staples on a freebie of colouring and other activities as well as a colouring contest. Last week, I also registered as an Indigenous Business with the Federal Government and am currently looking into becoming a supplier of office goods, promotional goods, printing and publishing."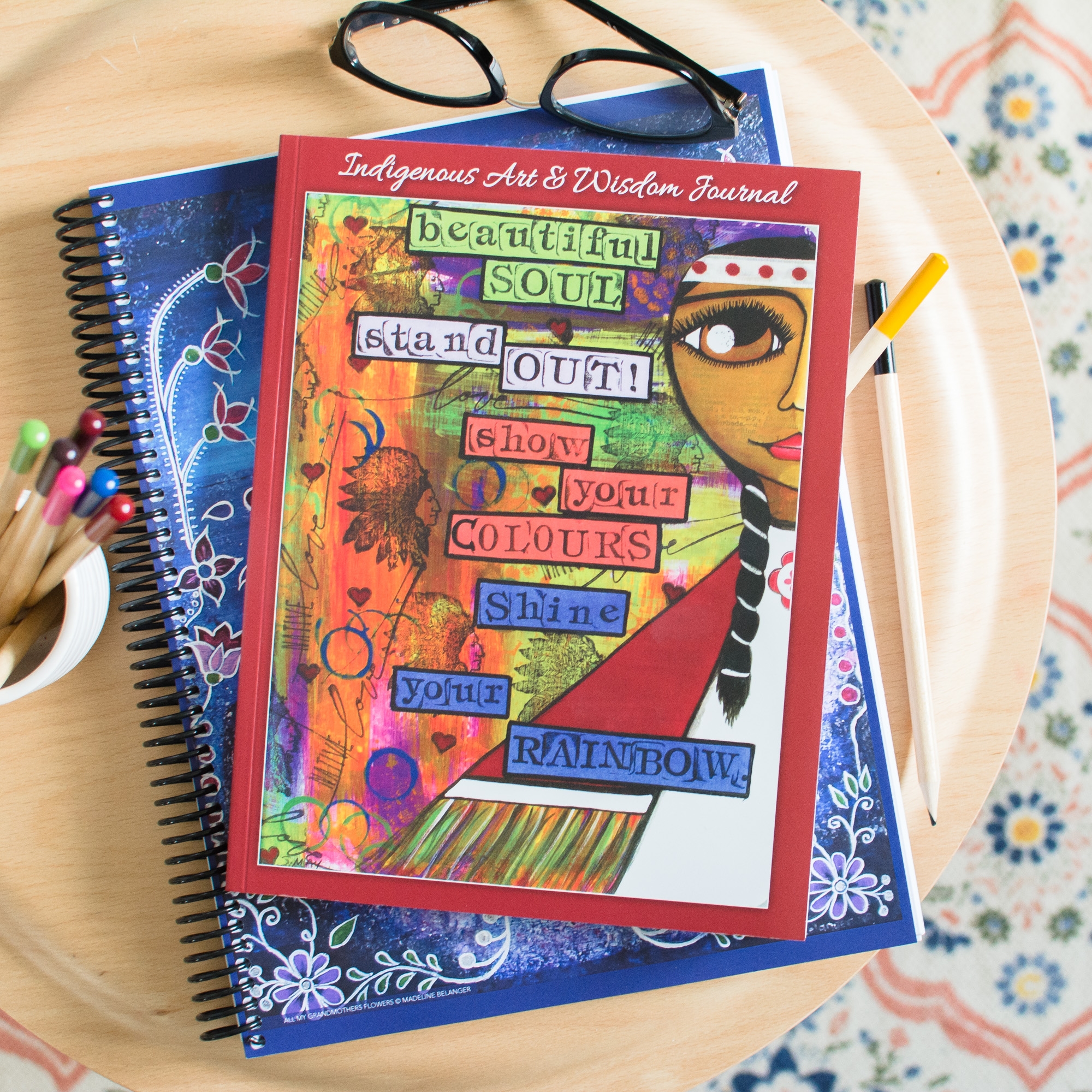 Aside from COVID-19, Colouring It Forward has been navigating other operational challenges. Diana explains:
"Because sales were down significantly in the last few months, I have had a difficult time paying my book suppliers in a timely manner for orders placed right before COVID-19 hit. I have developed repayment plans and have been setting funds aside specifically to meet those targets. I'm also developing two new products and trying to get some pre-sales to pay for design and printing."
Despite the uncertainty of the world's situation, Diana is focusing on reconnecting with the stores that carry Colouring It Forward's products across Canada as they gradually open.
"I am also developing an email strategy for my email list, putting the final touches on my first coffee table art book as well as my annual Indigenous art wall calendar." Diana says. "On my non-profit side of things, I am beginning to organize Pokaik the Children, the walk and event we organize for Orange Shirt Day. This year some of the activity will be online instead of in person. I am also co-founding an Indigenous Arts Cooperative with the help of Heather Morigeau (Founder of FoodScape Calgary) – we will be incorporating it this month and starting meetings to develop bylaws."
The Haskayne School of Business and the Trico Charitable Foundation believe Calgary can be a global hub for social entrepreneurship and leaders in the evolution of capitalism. The Trico Foundation Social Entrepreneurship Centre was established at Haskayne in 2019 thanks to a $5-million gift from the Trico Foundation to support student experiences inside and outside the classroom including community-based learning, internships, curriculum development and research. To build on this momentum, both organizations are collaborating on the biennial Social EnterPrize award for outstanding Canadian social enterprises and the biennial What's Next YYC, which awards prize money to amazing Calgary and area based social enterprises. Learn more.