[box] The Haskayne School of Business and the Trico Charitable Foundation believe Calgary can be a global hub for social entrepreneurship and leaders in the evolution of capitalism. The Trico Foundation Social Entrepreneurship Centre was established at Haskayne in 2019 thanks to a $5-million gift from the Trico Foundation to support student experiences inside and outside the classroom including community-based learning, internships, curriculum development and research. To build on this momentum, both organizations are collaborating on the Social EnterPrize award for outstanding Canadian social enterprises and What's Next YYC, which awards prize money to Calgary & area based social enterprises. Learn more. [/box]
Canada's first Indigenous arts hotel, Skwachàys Lodge (pronounced skwatch-eyes) is another shining example of Canada's leadership in coming up with ingenious ways business ventures can be blended with a social mission. Located in Vancouver, Skwachàys Lodge is a unique social enterprise created by a social housing organization, Vancouver Native Housing Society (VNHS).
The iconic building houses a Fair Trade Indigenous art gallery, a boutique hotel, and an Indigenous artist residence. The Artist in Residence program provides live/work studios, personal and professional development, support, services and peer mentoring for 24 Indigenous artists. In 2018, Time Magazine came out with their first annual list of the World's Greatest Places, where Skwachàys Lodge was extremely proud to be recognized.
Skwachàys Lodge was the 2019 recipient of the Trico Social EnterPrize and we had a chance to reconnect with David Eddy, CEO of Skwachàys Lodge and VNHS:
"Our biggest change since the 2019 Social EnterPrize award had to do with COVID-19. On March 17th, 2020, we shut the hotel and the gallery due to the state of emergency declared in BC. Prior to the reopening of the gallery and hotel we did a lot of work on COVID protocols and how we would operate under the new COVID restrictions, in terms of sanitizing and mask wearing."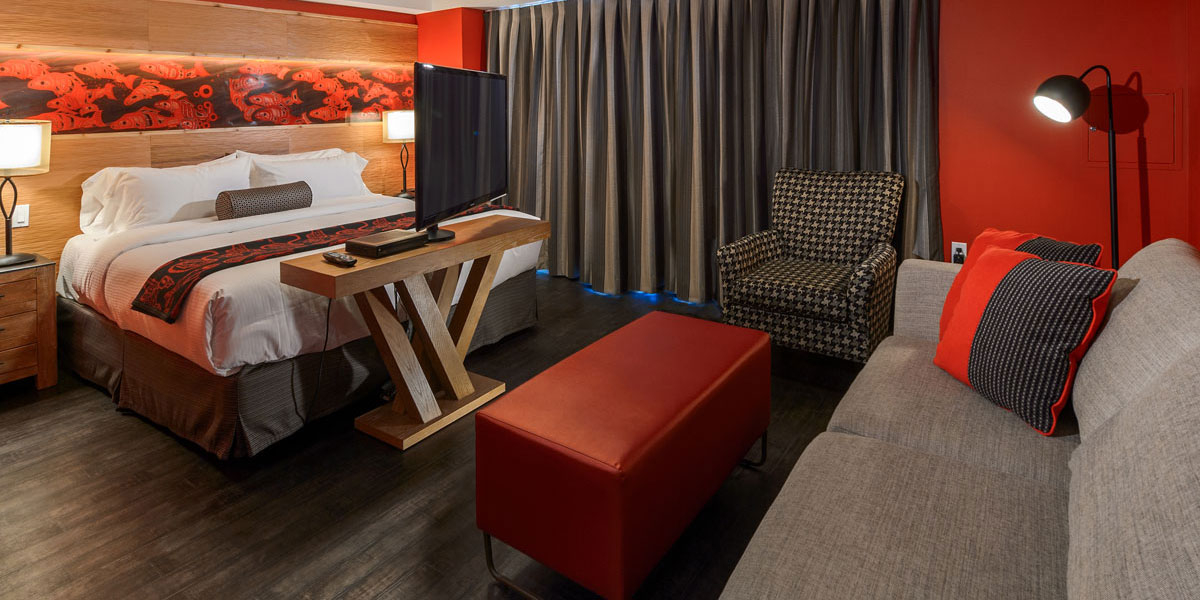 David and his team had to figure out the intricacies of things such as: how many people could be in the gallery at the same time? How many guests could they allow in at one time? Fortunately, Skwachàys Lodge was able to take advantage of the hotel being closed. They used the Trico Social EnterPrize award for most of the renovations and updating of the hotel. When they reopened in the summer of 2020, they had to shift their marketing focus to local staycations and bring guests in from other parts of BC and Alberta. David explains:
"To give you an idea, in March, we already knew we were pretty well sold out for July and August, and even June. However, the vast majority of those guests were international. With the closing of international borders, we lost all of those guests, and we had to then figure out staffing."
Because the artists in residence depend on the revenue from the hotel and the gallery to subsidize their stay, Skwachàys Lodge created a fundraiser through Charity Village. They had the artists and residents create a video, which explained the value that the artist in residence program has brought to them: https://give.charityvillage.com/01jU77?ref=tw_f9eRya_ab_A8QEh2TUAJlA8QEh2TUAJl
Skwachàys Lodge also pivoted to concentrating on their online store. They brought in a marketing student who has done tremendous work towards that end. David also spoke at the Social Enterprise World Forum (SEWF 2020):
"We thought that going from an in person to a virtual forum would have been a dicey thing to do and would not have necessarily guaranteed success. But in fact, it was a successful venture. It just goes to show the interest in social entrepreneurship, and the ability of social entrepreneurs to readjust and be nimble, and be agile, and to make necessary changes. I think it spoke well for social entrepreneurship in general."
Looking to the future, Skwachàys Lodge will have enlarged their hotel presence and will have put a lot more focus on online sales for the art gallery. They are also continuing to look for partners in other parts of the country:
"We're going to be focusing on the Ottawa area to put in another similar Indigenous arts and culture hotel. We think that within five years, there will be at least one other Skwachàys Lodge in the country. I think the future is reasonably bright. I think we've got a good thing going here, we just have to shift some marketing focus but the general principles will remain there."