Trico Charitable Foundation is excited to announce the partnership and sponsorship with SVI Alberta, working alongside Momentum (Thrive), Social Enterprise Fund (SEF), and in cooperation with the Social Venture Institute Hollyhock (SVI). Trico is committed to the development of the social entrepreneurship ecosystem and believe this event will advance that ecosystem.
A key point in Trico's efforts to grow the social enterprise ecosystem locally was when we hosted the Social Enterprise World Forum (SEWF) in 2013, which brought SEWF to Canada for the first time ever. It involved over 100 speakers and at the time broke a SEWF attendance record with over 1,000 attendees from 30 countries. We worked with both Momentum (Thrive) and SEF to put on that event. SEWF really helped spur the growth in the supports, talent, and collaboration that has helped propel Calgary as a social entrepreneurship hub.
In terms of supports, it inspired the annual event Soul of the Next Economy. Since then we have seen the emergence of additional supports such as the Thrive accelerator, ATB Social Enterpreneurship Centers, the Innovate Calgary/RBC Social Enterprise Accelerator and the Trico Changemakers Studio – all of which Trico is honoured to work with. In fact, in 2016 Trico created a hard copy and online postcard version to help track these supports: https://tricofoundation.ca/yycecosystem/.
This most recently led to our collaboration with Thrive on a very successful EconoUs 2017, which brought together 395 community leaders with a representation from each province. Events and supports like these nurture a growing cadre of social entrepreneur talent. For example, in 2017 Women in Need Society (WINS) was the first Calgary organization to be awarded Trico's national Social EnterPrize.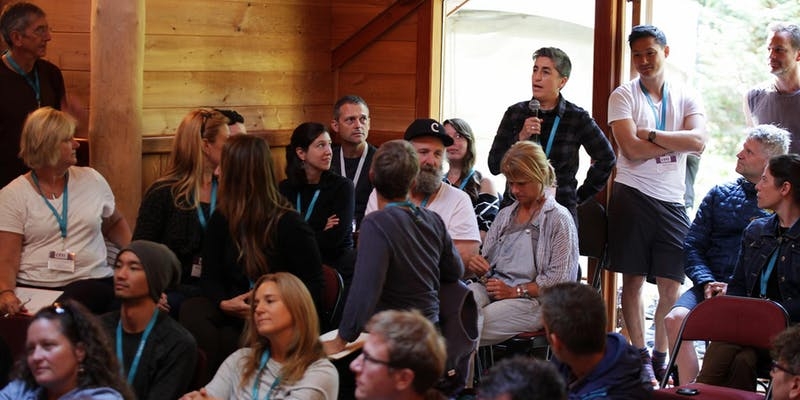 It is also a sign of the burgeoning support, expertize, and cooperation in Calgary that of nine the Social EnterPrize case studies Trico commissioned, WINS was the first one where three post-secondary institutions collaborated on writing the study (Bow Valley College, Mount Royal University, and the Haskayne School of Business at the University of Calgary) . The growth in the social enterprise programming in our local post-secondary institutions could be a blog on its own. Another example in this regard,  Trico is excited and honoured to be working on social entrepreneurship curriculum with Mount Royal University (MRU), Bow Valley College, University of Calgary (Haskayne), Ambrose University, and MacEwan University.
Trico partners with RECODE and Skoll Centre For Entrepreneurship on Mapping the System. In the inaugural edition in 2017, Calgary had more post-secondary institutions participating than any other city in Canada. This led to Calgary hosting the first ever Canadian final in 2017, where a MRU student was one of two Canadian reps that went on to the international final in Oxford. A MRU student ended up winning the international final in 2018! Click here for the full story: https://tricofoundation.ca/students-put-canada-on-the-map/
The biggest sign of Calgary's progress as a social enterprise hub could very well be the official proclamation on September 16th, 2016 of "Social Entrepreneurship Day" made possible by Calgary's Mayor, Naheed Nenshi, and the 11 diverse organizations we partnered with: Beakerhead; United Way of Calgary and Area; Capital Ideas; ATB BoostR; Calgary Economic Development; Innovate Calgary; Chiu School of Business, Bow Valley College; Institute for Innovation and Entrepreneurship, Mount Royal University; Haskayne School of Business, University of Calgary; Startup Calgary; and The Calgary Foundation. A truly incredible and amazingly coming together of local organizations from business, the post-secondary system, and social spheres!
We are pleased to not only continue this social entrepreneurship ecosystem-building work, but extend it to the entire province, with the inaugural SVI Alberta event, which is set for October 15th and 16th, 2018 at the Banff Centre.
Dan Overall, Executive Director of the Trico Charitable Foundation, explains the importance of supporting this event:
"SVI plays a role in the larger community interested in the concept of social enterprise.  It works with partners across the province and the country to expand the practical understanding of how social enterprise works 'on the ground', as well as contributing to the training opportunities available to social entrepreneurs."