[box] What's Next YYC is a biennial award from the Trico Charitable Foundation and the newly formed Trico Foundation Social Entrepreneurship Centre at the Haskayne School of Business to celebrate the most exciting social entrepreneurs in the city. Because What's Next YYC only targets local social enterprises that have already won awards and/or successfully completed a local social enterprise support program, it not only helps social enterprises get to the next level, it also builds on and celebrates the work of social enterprise support system of Calgary and its surrounding area. What's Next YYC also seeks to help build Calgary as a social enterprise hub. This blog series provides an update on the journey of some of our finalists from the inaugural 2019 edition of What's Next YYC. [/box]
The first biennial What's Next YYC was held in November 2019 and from the outstanding pool of 10 finalists, Universal Access was one out of three Judge's Choice recipients, receiving $25,000 in prize money. Founder, Accessibility Visionary, and Entrepreneur Sean Crump understood first-hand the challenges of inaccessible spaces after an accident left him paralyzed at 19 years old. Sean then launched Universal Access, accessibility consultants that provide assessments and certifications to multiple locations that meet their physically barrier-free standard.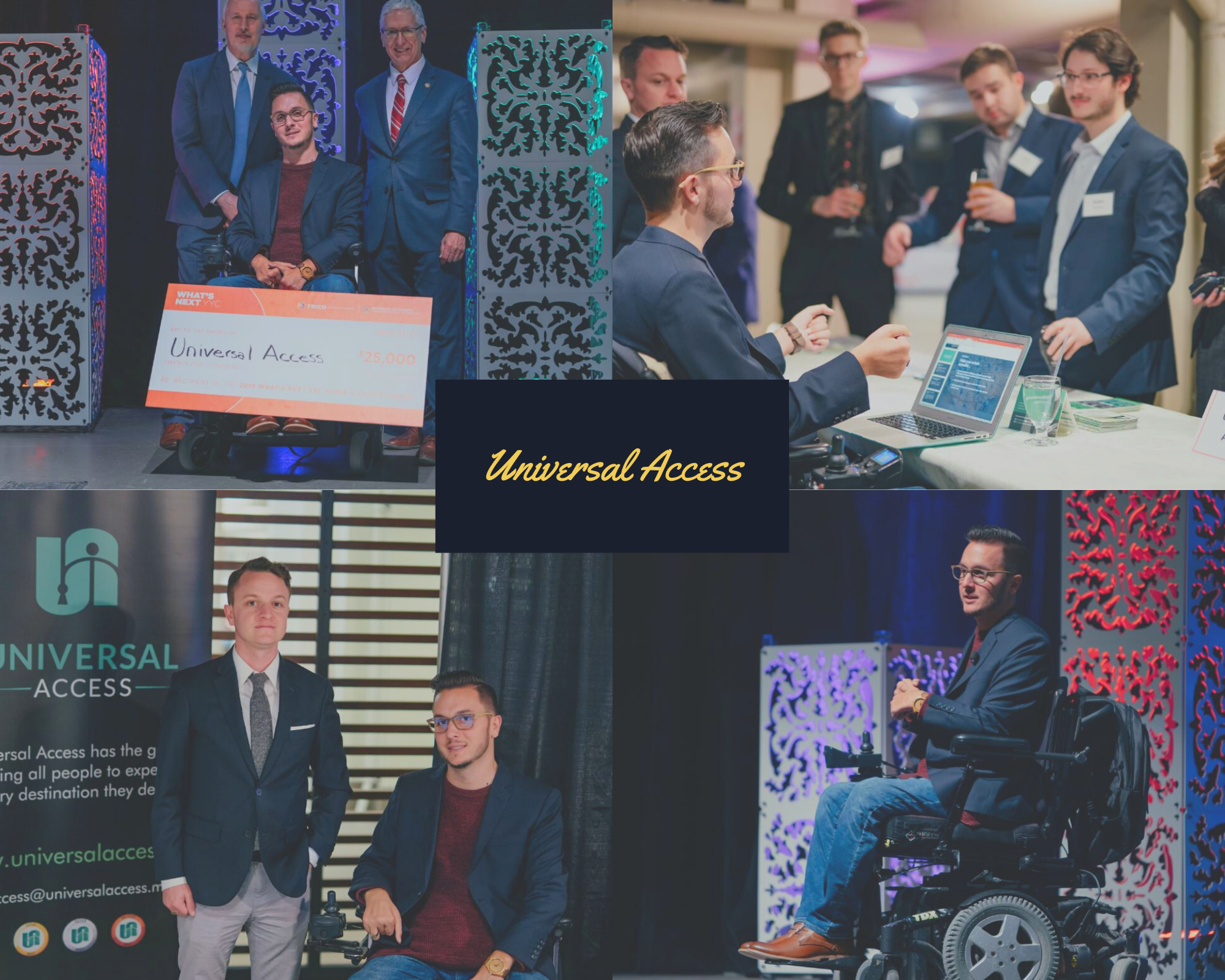 Sean explains what Universal Access has been up to since the What's Next YYC awards:
"We've been busy! Since last November, we have completed a merger, exceeded our annual projections by 450% and are developing two pieces of technology that will launch in November of this year. The merger with GenerousSolutions has enabled us to bring in highly skilled talent that complements the existing skill set we had at Universal Access. Also, the merger brought with it a robust and established technology platform that we were able to leverage and multiply the What's Next YYC $25k to deliver a truly useful resource."
Universal Access is on a mission to develop technology that enables businesses, architects, and governments to effortlessly assess their spaces and locations. By November 2020, they will have launched the first two technological offerings to start delivering on this mission.
"We exceeded our September to September financial projections by 450%." says Sean, "Through newly initiated marketing efforts, strengthening relationships and producing exceptional work we secured accessibility consulting projects like the Glenbow Museum Redevelopment (with Dialog), the Accessibility Assessment of Murray Fraser Hall (at UofC) and a suite of 16 offices across North America (with JLL)."
As with most businesses the start of the global pandemic was difficult. Universal Access saw projects get cancelled, and already tight budgets get even tighter. However, Sean explains that with challenge comes great opportunity:
"We rolled out a COVID-19 delayed payment offering to help struggling businesses implement Universal Design to help welcome more people into their spaces than they could before. Plus with some of the buildings a little more empty than usual, our assessments could be done in less time, lowering the cost and increasing efficiency. We also used the pandemic to tighten up our internal processes, complete the merger and set ourselves up to deliver on our international expansion in 2021."
Aside from COVID-19, a challenge Sean and his team have been working through is how to navigate partnerships and mergers. Sean adds:
"A merger is always challenging, but with aligned values and common purpose, our merger with GenerousSolutions happened smoothly and has set us up for success going forward. We are currently working on multiple significant partnerships. While not ready to be publicly announced, this partnership work has provided tremendous learning opportunities and, we believe, will significantly shape the future of our business."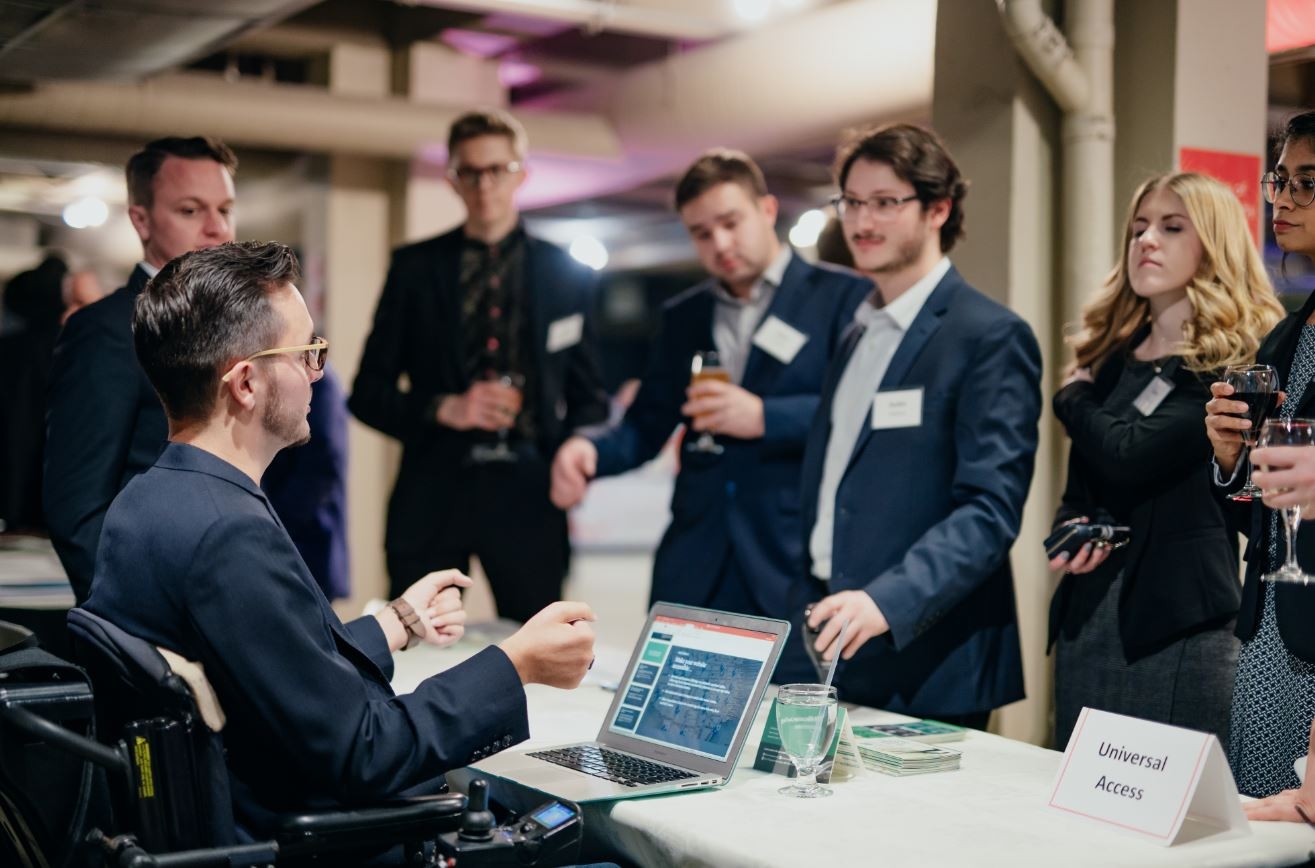 Universal Access is currently focused on delivering on their contracted projects, launching the beta version of two accessibility certification technologies, preparing for their first external investment and onboarding key hires -all before the end of the year. Looking to the future, Sean is eager to continue the hard work Universal Access has accomplished so far:
"Having already far exceeded where we thought we could get to in 12 months, our future is very exciting. We have been selected to assess multiple international office buildings and through strategic partnerships are working on multiple significant opportunities. We also see the opportunity to support governments and businesses as they work towards achieving the United Nations Sustainable Development Goals."
[box] The Haskayne School of Business and the Trico Charitable Foundation believe Calgary can be a global hub for social entrepreneurship and leaders in the evolution of capitalism. The Trico Foundation Social Entrepreneurship Centre was established at Haskayne in 2019 thanks to a $5-million gift from the Trico Foundation to support student experiences inside and outside the classroom including community-based learning, internships, curriculum development and research. To build on this momentum, both organizations are collaborating on the biennial Social EnterPrize award for outstanding Canadian social enterprises and the biennial What's Next YYC, which awards prize money to amazing Calgary and area based social enterprises. Learn more. [/box]