What's Next YYC is a biennial award from the Trico Charitable Foundation and the newly formed Trico Foundation Social Entrepreneurship Centre at the Haskayne School of Business to celebrate the most exciting social entrepreneurs in the city. Because What's Next YYC only targets local social enterprises that have already won awards and/or successfully completed a local social enterprise support program, it not only helps social enterprises get to the next level, it also builds on and celebrates the work of social enterprise support system of Calgary and its surrounding area. What's Next YYC also seeks to help build Calgary as a social enterprise hub. This blog series provides an update on the journey of some of our finalists from the inaugural 2019 edition of What's Next YYC.
The first biennial What's Next YYC was held in November 2019 and from the outstanding pool of 10 finalists, Beaverlodge was one out of three Judge's Choice recipients, receiving $25,000 in prize money. Beaverlodge makes it easier for people to get bulk discounts as they make their homes more efficient. The user follows a series of steps on their phone and they end up with a road map to reduce their emissions by 50%.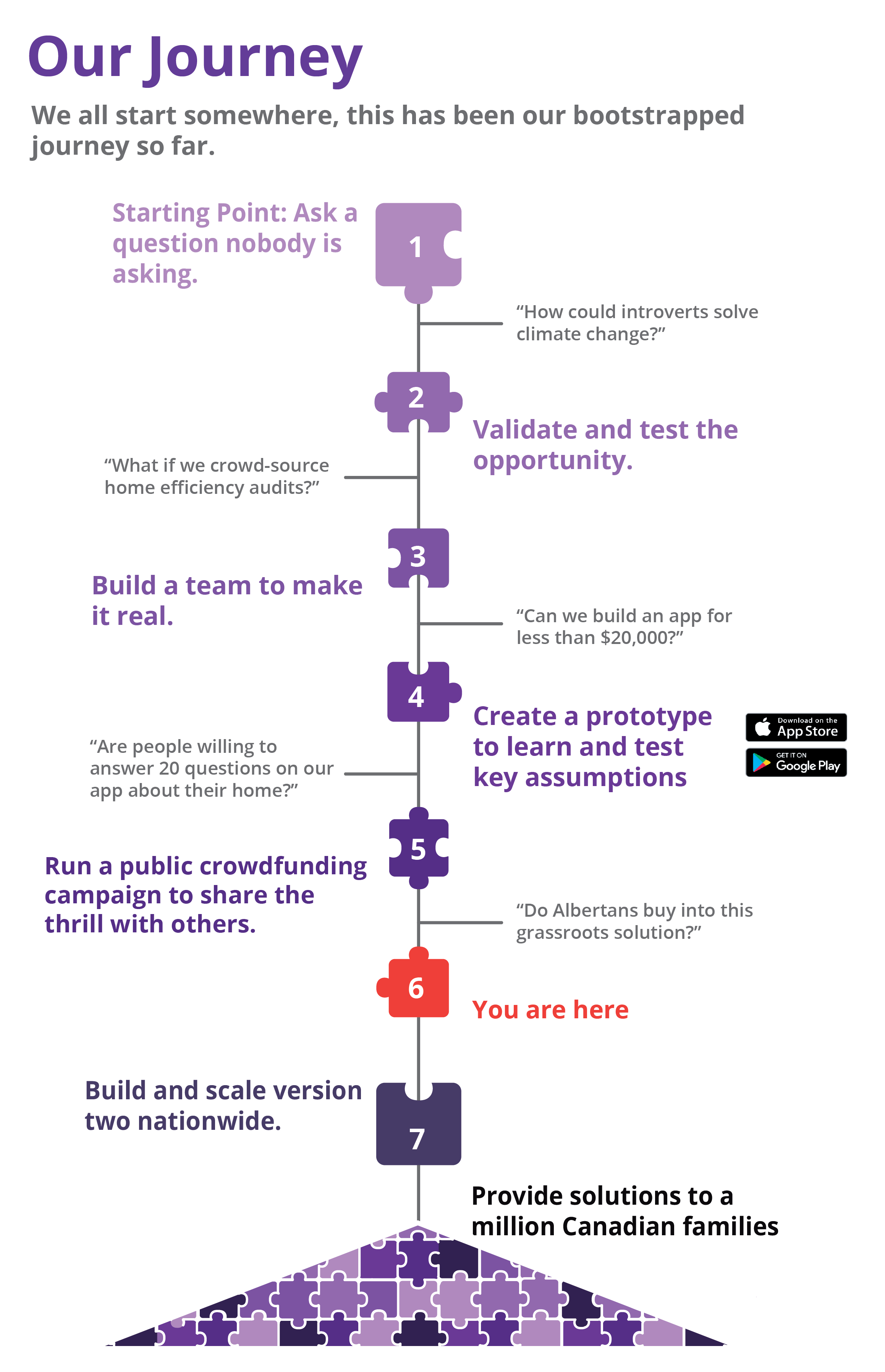 The idea emerged out of a year-long exploration of the question; "How Could Introverts Solve Climate Change?". CEO and Game Architect Tim Lipp found that most climate change activities are extroverted in nature, and was eager to find a solution to this critical issue. Tim's "Why" for this started when he was travelling around the world where he met farmers losing their crops as a result of climate change. He realized that it was people like himself, traveling around the world, which caused the climate change and not the local farmers. Tim then came up with the idea of an app that brought climate change to the home.
The name "Beaverlodge" was inspired from a family of beavers (meet them in this video), just a few minutes' float from where the Bow and Elbow rivers meet in his hometown Calgary, Alberta. Tim says:
"Serendipity brought them across our path, just as we were looking for a name. The traditional Blackfoot name of where the rivers meet is "Mohkinststis," which we now call the city of Calgary. We owe much to the space we occupy, and are based on the traditional territories of the Niitsitapi Blackfoot Peoples and Confederacy (Siksika, Kainai, Piikani), the Tsuut'ina, the Îyârhe Nakoda Nations and the home of Métis Nation (Region 3), and all people who make their homes in the Treaty 7 region of Southern Alberta."
Tim explains what Beaverlodge has been up to since the What's Next YYC awards in November:
"The simple answer is; working 60+ hours a week to make the best use of the funds we received. The results of that are an app on two app stores, and almost 200 users on our prototype. Usually building an app costs over $50,000, but the What's Next YYC award helped us attract some incredible people to build it a fraction of the cost."
The What's Next YYC prize money spurred many happenings for Beaverlodge. Tim identifies more progress in just eight short months:
"The first nation-wide app for average Canadians to do home energy audits, we used the bulk of the prize money for development costs;

Support and engagement with other members of the global Social Enterprise Community (Charmian Love's advice and support is still some of the best we've ever received [Editor's note: Ms. Love was the judge for What's Next YYC 2019 and one of the additional benefits of winning was getting a chance to get some mentoring from her.]);

Over 15 Students, engineers and professionals have signed up to volunteer, or work full-time (for free), partially because of the credibility and app that the prize money enabled;

Revolutionizing home efficiency audits seems like a simple innocuous task, but the data-driven, systems-led approach we are taking will have profound impacts on everything from climate change, to affordable housing and mental health. Building something of that scale is going to take a lot of work, but we won't stop trying until we've given it our all."
As soon as the COVID-19 pandemic hit, Beaverlodge suspended all operations. Tim says:
"We tried to pivot our app to help (check that concept at www.stopthecovi.com) and got over 500 likes on Facebook, but we realized we couldn't launch two groundbreaking apps on a shoestring budget at the same time. If you saw our initial business plan submitted to the competition, increasing solutions for people spending more time in their homes was one of our key tenets 9 months ago. COVID-19 has quadrupled the significance of that approach. Since we started with a dream to make solving climate change easy for introverts, in some ways our opportunities increased. People are in their homes all the time now, and thinking about how they could be better. Our platform isn't limited to introverts by any stretch, but it was a helpful design constraint that helped us focus in the right direction. The dynamics of the last 5 months have enabled us to grow from a small team, to over 15 interns and volunteers. You can meet some of them in this video. "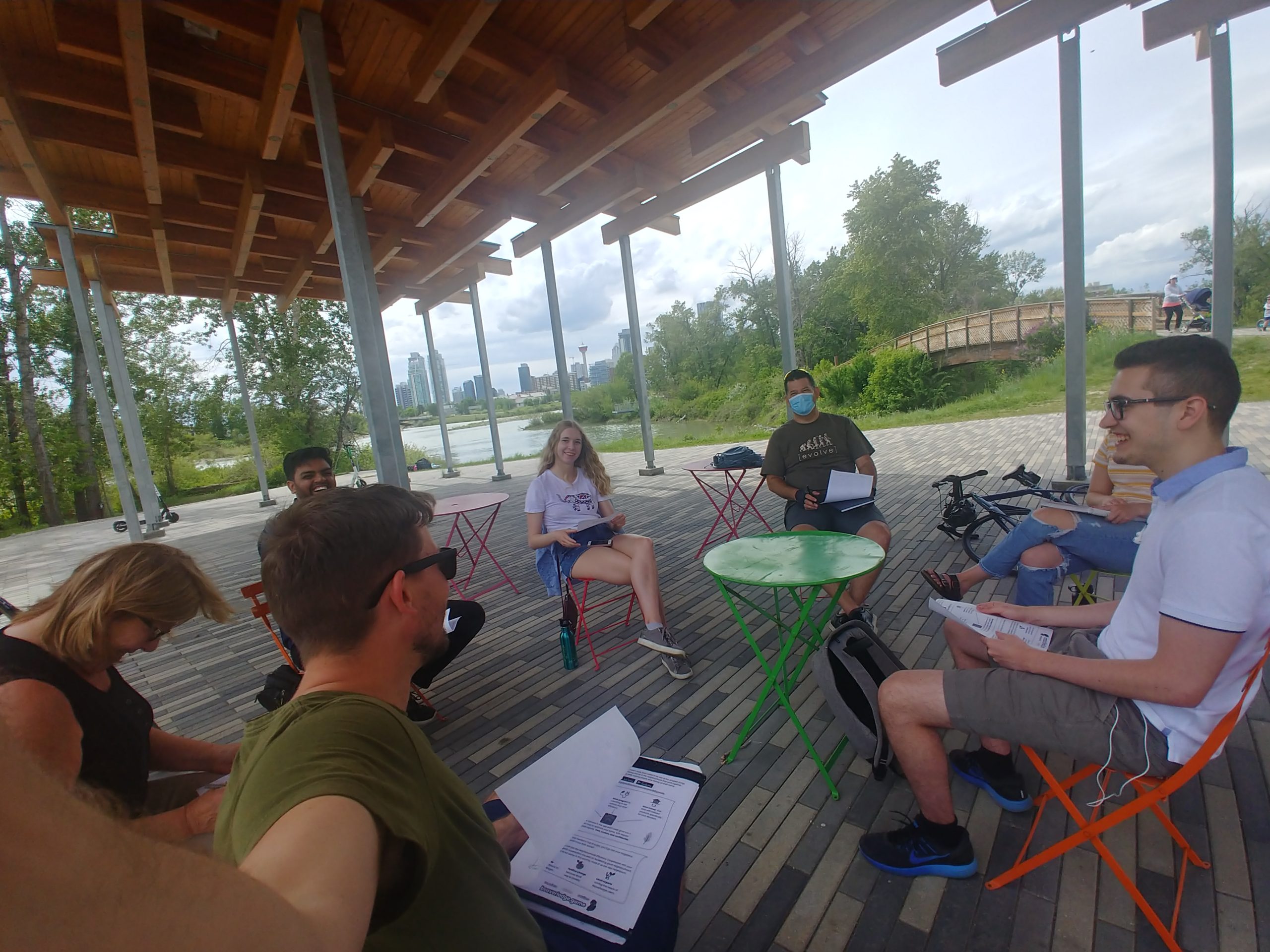 Aside from COVID-19, a challenge Beaverlodge has been working through is how to know which partnerships are the right ones. Tim adds:
"The right partnership can scale your impact extremely rapidly. The wrong partnership can distract you from your mission and hurt the people you're trying to help. Telling the difference is what's tricky but we're getting better at it. We know who are target customers are; and continue to focus on providing them value. "
Beaverlodge is currently focusing on their three main "sprint teams." Tim explains:
"One is focusing on giving our current customers the best value, another is managing our social media and launching a crowdfunding campaign, and the last team is prototyping 'Version 2' a second iteration of the Beaverlodge app with a completely different feel and infinitely better."
Looking to the future, Tim reiterates Beaverlodge's goal and mission:
"We've realized that giving average Canadians a way to reduce emissions by 50% is actually fairly simple when you frame it with the right systems lens. Our team is passionate about 'the Why' behind what we are doing, and extremely creative at coming up with solutions."
The Haskayne School of Business and the Trico Charitable Foundation believe Calgary can be a global hub for social entrepreneurship and leaders in the evolution of capitalism. The Trico Foundation Social Entrepreneurship Centre was established at Haskayne in 2019 thanks to a $5-million gift from the Trico Foundation to support student experiences inside and outside the classroom including community-based learning, internships, curriculum development and research. To build on this momentum, both organizations are collaborating on the biennial Social EnterPrize award for outstanding Canadian social enterprises and the biennial What's Next YYC, which awards prize money to amazing Calgary and area based social enterprises. Learn more.