Green Cup is a new project started by post-secondary student Austin (Ozzy) Lang and co-founded by his colleague Emily Bartlett. This for-profit endeavour aims to make a positive impact on the environment by creating compostable coffee cups. Calgary does not currently have a compost system, so these cups are thrown out in bins labelled with the Green Cup logo and instructions for disposal. These cups are currently being tested in various control sites, and Green Cup's website states that they are interested in providing their cups to schools, events, conventions, arenas, festivals, or any other similar organization.  Once Calgary establishes its Green Cart Food & Yard Waste program in 2017, Green Cup will be able to integrate its cups into the disposal system.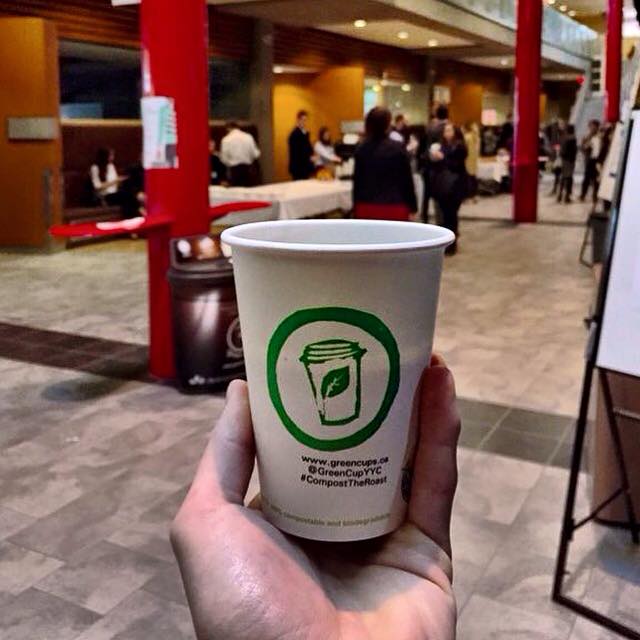 Austin Lang briefly describes the goals of his venture:
"We are hoping to place sponsored messages on compostable coffee cups and distributing them throughout controlled environments. The controlled environment allows us to ensure the cups are being disposed of correctly. We believe that this will dramatically decrease the impacts of coffee cups. We are also focusing on positive sponsorship increasing the social value of the enterprise."
By placing advertising on the Green Cups, they can make a profit while promoting messages that coincide with the enterprise's values and goals. Austin also says that they'll track the effectiveness of coffee cup advertising, and use the results to improve their model while increasing their customer basis.
Austin Lang is a recent graduate from Mount Royal University, where he completed a Bachelor of Business Administration (B.B.A.). Green Cup began as Austin's project in 2014 during his time with Enactus Mount Royal, a club at Mount Royal University that challenges its students to pursue entrepreneurial ventures in the community. Austin says that he found the most support from Mount Royal's Entrepreneurship program, as it provided him the chance to enter in different pitch competitions and other opportunities. He is also part of Mount Royal's LaunchPad Program, where he meets with the chair of entrepreneurship every Tuesday. Austin says that the program is good for how to track where the project is going and how to set goals, but it does not give him the networking experience he desires. These programs have given Austin some exposure to networks outside of Enactus, but he says that he would like to explore the possibility of connecting with other clients and potential partners.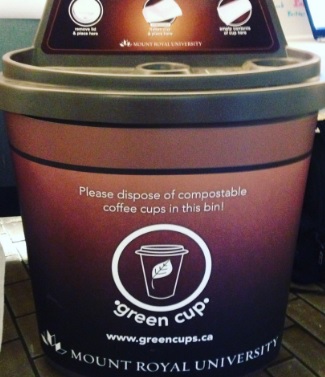 Although the social enterprise began in Enactus, Austin talks about the experiences he had prior to participating in the club that inspired him to start an environmentally focused endeavour:
"I believe that it came when I went to Africa after I graduated high school and volunteered there for a little while, and I saw what destruction was like really occurring in Third World countries. Then I got to go to China and saw what it would lead to if [destruction] kept going, and that pushed me to start to make changes I my own life and I thought I could do more than change my own life I could change a whole society's way of looking at things. That's when I pushed myself to become more than just a recycler – in my own life I thought I could change more."
Austin says that working on Green Cup satiates the innate feeling that tells him to "do more", regardless of what may get in his way. Overcoming obstacles and hurdles is nothing new to Austin. He elaborates on how he has dealt with them throughout his life and how they influence his personal drive and motivation:
"I grew up with a learning disability and I was always pushed to do more. My parents always pushed me to be better and to keep pushing and keep trying. Then I developed that sense that you can be better than yourself yesterday. I would have to take ten steps to do the same as somebody else's one step, and that really pushed me to work harder and to keep trying, and I eventually would succeed. I believe I have had many successes in my life because I keep pushing for it and keep working hard at everything."
Although he is aware of the potential destruction that can occur as a result of environmental degradation, he remains optimistic for the future generations:
"We're working with an elementary school and trying to create awareness with them with the coffee cup issue. Going into that classroom, it really inspired me to keep going because I realized I'm not only doing it for myself but I'm doing it for the future generations. They're really on board and really excited about the project, so it keeps me pushing forward."
This partnership is beneficial to Green Cup as it gives them a site to test its sustainability, including how effective the implementation of these cups are, and whether or not they are being disposed of in the assigned bins. This partnership also educates youths about the reality of environmental degradation and material waste. He further elaborates on the origins of this partnership and the work that resulted from the enthusiasm toward his project:
"They were really excited about the CBC Marketplace and they found my petition online towards Tim Horton's… Their teacher reached out to me and asked if I could come in and talk to them. I started talking and they designed a statue that we will be building out of coffee cups. This is just to bring some awareness about the idea, and for people to think about the waste that they are creating."
The petition he mentions was an attempt to garner awareness for the project and catch the attention of Tim Horton's in the hopes of starting a dialogue on compostable cups or recycling their cups. Part of Green Cup's plea to Daniel Schwartz, CEO of Tim Horton's is illustrated in the following quote:
"We are concerned with the fact that in Calgary, Alberta alone, 337,000 disposable coffee cups get thrown in the trash each day. These cups are filling up our landfills at an alarming rate, resulting in a myriad of harmful effects on our environment […] So we are asking you, as a Canadian icon and leading brand, to help us make a change. While you have stated that your hot beverage cups are recyclable, you have also stated that it is a challenge to find recycling programs that will actually accept and process them. From experience, we know that these cups end up in the landfill – they are not recycled. We ask that you switch your hot beverage cups to a compostable type to address this problem."
One of Austin's social entrepreneurship role models includes Paul Shumlich, Founder of Deep Water Farms, a project that aims to use aquaponic technology to bridge the gap between sustainable farming and the local community (more on this project here). Another project he looks up to is Patagonia, an outdoor-clothing brand that follows eco-friendly practices in its business. He also mentions Do It Green (DIG); an environmental services company that specializes in special events and festivals. One peer-organized effort that he is a fan of is Project Stoke, which uses cook stoves in ways that create economic and environmental benefit (more on this project here).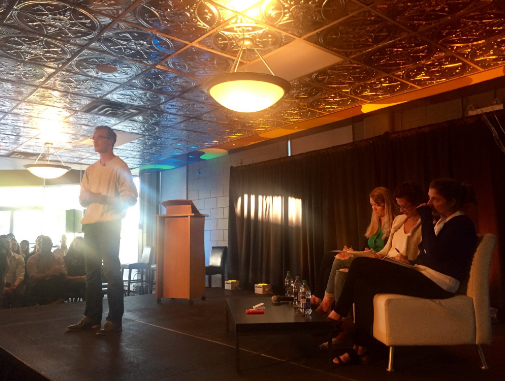 Austin enjoys listening to a podcast called StartUp, and also likes to read blog posts from MRU (Community Prosperity), as he loves seeing the success stories that are posted on the site.
You can follow Green Cup on Twitter @GreenCupYYC & look at their website here.
[box] A New Chapter of Storytelling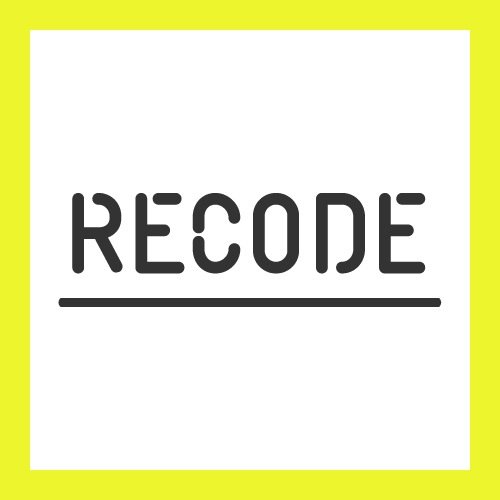 Increasingly, we are seeing that some of the greatest advances in social entrepreneurship and social innovation are coming from students. These stories are being lived, but they are rarely told. As a result, RECODE and the Trico Charitable Foundation are collaborating to survey and interview leading examples of Canadian post-secondary students who are developing social enterprises (for profit or not for profit).
This work seeks to build on RECODE's survey activities with Emory University in Atlanta, and the insights from the Scaled Purpose and Mount Royal University report "Where to Begin: How Social Innovation is Emerging Across Canadian Campuses".
It is hoped this research will inform our efforts to help Canada's post-secondary institutions lead the way in supporting student social entrepreneurs and social innovators. But more than that, it will lead to a series of blogs capturing the students' journeys. These stories will "reveal how process and purpose can converge to power a new economy for social and ecological impact" and, hopefully, inspire and inform social entrepreneurs within and beyond our Universities.
Stay tuned for updates on RECODE and Trico Charitable Foundation.[/box]